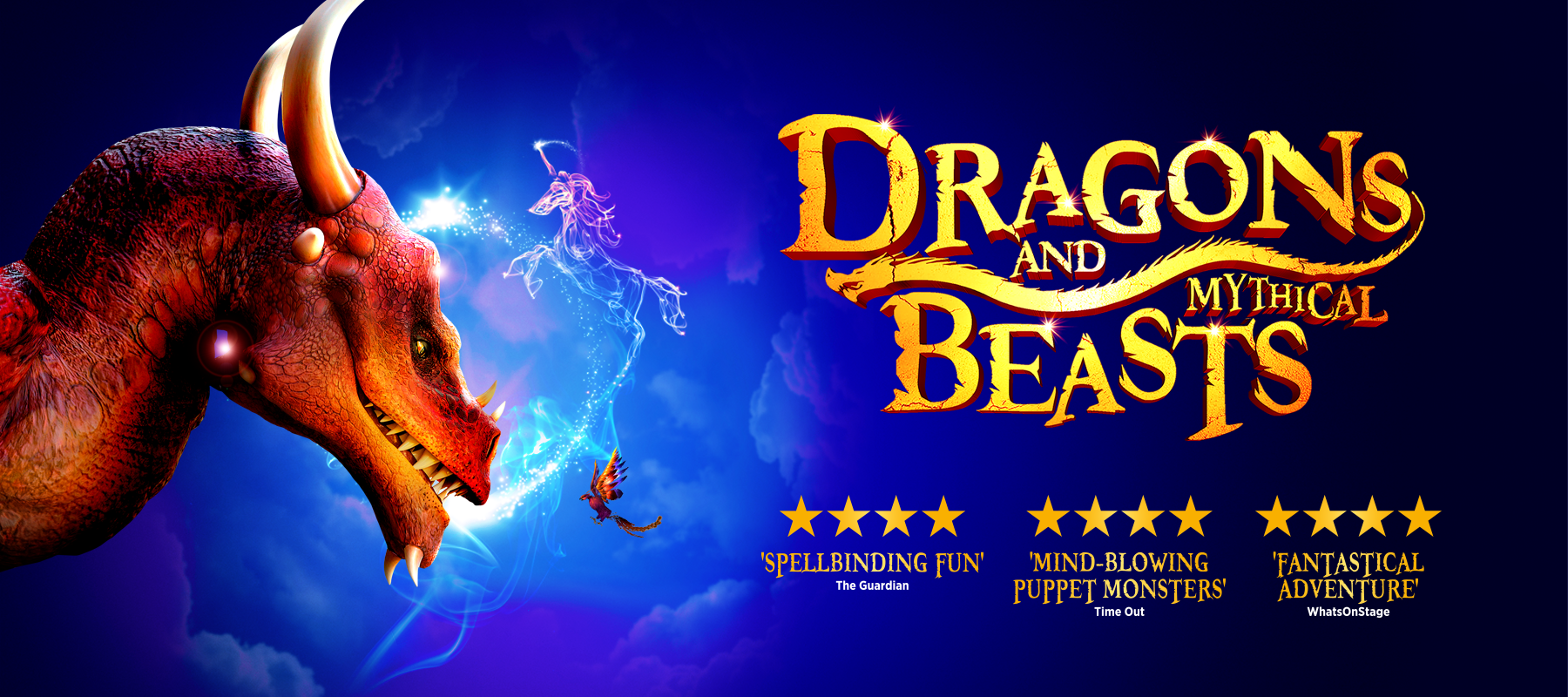 Dragons and Mythical Beasts
Dragons and Mythical Beasts
Calling all brave heroes! Enter into a magical world of myths and legends in this fantastical new show for all the family.
Unveil a myriad of dark secrets and come face to face with some of the most magnificent monsters and terrifying beasts ever to walk the earth. Discover the colossal Stone Troll, the mysterious Indrik and Japanese Baku; the Tooth Fairy (not as sweet as you'd think), an adorable Unicorn and majestic Griffin. Take your place among legendary heroes, just don't wake the Dragon…
This Olivier Award nominated show comes to the USA direct from the West End, from the creators of the international smash hit Dinosaur World Live, who bring spectacular puppets to life.
Don't miss this brand-new spell-binding adventure, live on stage!
dragonsandbeastslive.com
@dragonsbeasts
★★★★
'Comical, spellbinding show!'
The Guardian
★★★★
'Mind-blowing puppet monsters!'
Time Out
★★★★
'Fantastical adventure for kids of all ages!'
WhatsOnStage
Group Sales

Groups of 8 or more save 15% off single ticket pricing. Plus, free popcorn and bottled water for each group ticket purchased! Visit our Group Sales page for more information or call 804-592-3401 to place a group order.

COVID-19 Policies

ASM Richmond is committed to the health and safety of our patrons, guests, artists, performers, crew, and staff and we will continue to follow the latest health guidance and protocols. In light of the changing conditions with COVID-19 and the Delta variant, we are working closely with all of our promoters to ensure the health and safety of our patrons, staff, and guests.

Currently, Altria Theater is operating at 100% capacity and is strongly encouraging all patrons, whether vaccinated or not, to mask while at the venue. We do not have a vaccination or negative test requirement in place as a venue, although promoters of our upcoming shows are considering multiple options, including the possibility of masks, vaccines, and COVID-19 tests.

At this time, this show does not have any additional requirements in place for patrons outside of the standing venue policies. If there are any changes to the requirements prior to the show, patrons will be notified by email and the event page on the venue website will be updated.

For more information on other actions taken for your safety, please visit https://www.altriatheater.com/visit/health-and-safety.

We look forward to welcoming you back to our venues, and to providing a safe and enjoyable experience!

Age Recommendation

This performance is recommended for ages 3+

Meet The Beasts

'HALDOR'

"A diamond from a heart of stone"

Type of creature: Stone Troll

Strength: Almost totally indestructible!

Weakness: Moves very slowly in daylight.

NOTE: Usually found across Northern Europe, buried deep underground.

'JUNO'

"A tooth, from a mouth of smoke and fire"

Type of creature: Dragon

Strength: Powerful claws, wings and teeth. Can also breathe fire.

Weakness: All dragons share a great weakness to the mighty sword –DRAGONSBANE!

NOTE: Juno has 36 teeth, all of them containing deadly venom. Very, very, very big teeth!

'SHIMMER'

"A healing horn of magic grown"

Type of creature: Unicorn

Strength: Unicorn horns have very powerful healing properties. (They also have glittery poo!)

Weakness: Loud noises - Unicorns can get scared easily.

NOTE: Unicorns are born completely gold and turn silver as they age!

'SHIRDAL'

"A treasure taken from claw and beak"

Type of creature: Griffin

Strength: Sharp claws and a strong beak.

Weakness: Easily distracted - especially by gold, but anything shiny will do.

NOTE In the wild, Griffins build giant nests of gold where they lay their eggs. And, where does he keep finding that rubbish bin?!

'THE BAKU'

"A dream-eater's dream, after a meal"

Type of creature: Baku

Strength: Takes away nightmares.

Weakness: Might accidentally take all your dreams away - good and bad!

NOTE: Stopping trying to cuddle the Baku, Dave! Remember rule number three!

'AERWYN'

"A fairy's gold, bought with a deal"

Type of creature: Tooth Fairy

Strength: Surprisingly strong for their size, and very, very quick.

Weakness: Can be quite temperamental, and easily upset by neglected teeth.

NOTE: Fairies use teeth to build their nests - the stronger the better! Must remember to floss.

'GEORGE'

Type of creature: Wyvern

Strength: Powerful jaws and legs! Also very intelligent.

Weakness: George is young so he hasn't got any teeth…yet.

NOTE: George seems very fond of Aerwyn. Are they friends…?

'THE INDRIK'

The Indrik is a very powerful and mysterious creature. Not much is known about them - but they are said to appear when an act of true heroism is performed.