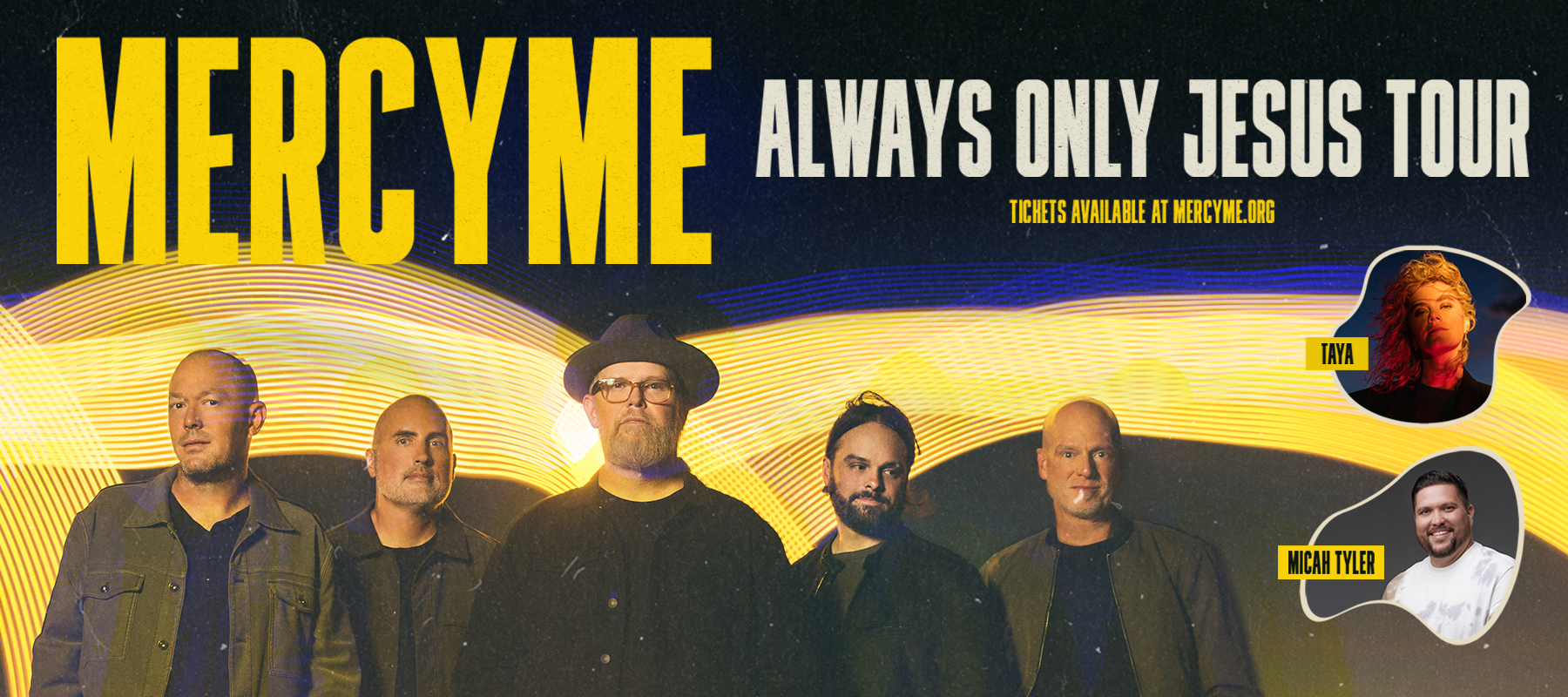 MercyMe: Always Only Jesus Tour
MercyMe: Always Only Jesus Tour
It continues to be a landmark time for the multi-platinum selling, GRAMMY® nominated, multiple American Music Award, Billboard Music Award and Dove Award winners MercyMe. They were recently named Billboard's Top Christian Artist of the 2010 decade, and in 2020 received their eighth American Music Award nomination. A major motion picture based on the life of frontman Bart Millard who wrote the mega-hit song "I Can Only Imagine" after the loss of his father, opened at a remarkable No. 3 at the box office on Mar. 16, 2018 (Lionsgate, Roadside Attractions). In conjunction with the movie release, Millard penned a memoir and the band released a collection of hits titled I Can Only Imagine – The Very Best Of MercyMe. In 2018 MercyMe was named Top Christian Artist at the Billboard Music Awards, was the top winner at the fan-fueled K-LOVE Fan Awards including a win for Artist of the Year, and was the GMA Dove Award Winner for Artist Of The Year. Since their debut in 2001, the band has sold more than 9 million units in CD, single and DVD sales, garnered more than 48 No. 1 multi-format radio singles, and had four consecutive mainstream radio hits. MercyMe made history in 2014 as "I Can Only Imagine" surpassed 2 million digital downloads, making it the first song in Christian music to go platinum and double-platinum in the digital domain. The song has now gone has gone 4x platinum. In 2009, Billboard named MercyMe's "Word Of God Speak" the No. 1 Song of The Decade and the group the No. 1 Artist of the Decade in both the Christian Songs and Christian AC Songs categories, recognizing them as one of the industry's most notable talents. They have sold out venues throughout the US and Canada, including Radio City Music Hall, Red Rocks Amphitheatre, and have appeared on the Macy's Thanksgiving Day Parade, Good Morning America, GMA3, The Today Show, CBS This Morning, FOX New Channel's FOX & Friends, CNN, ABC News and in the pages of Entertainment Weekly, The New York Times, USA Today and more.
Group Sales

Groups of 10 or more save $5 off single ticket pricing, excluding top priced seating. Visit our Group Sales page for more information or call 804-592-3401 to place a group order.

COVID-19 Policies

ASM Richmond is committed to the health and safety of our patrons, guests, artists, performers, crew, and staff and we will continue to follow the latest health guidance and protocols. In light of the changing conditions with COVID-19 and the Delta variant, we are working closely with all of our promoters to ensure the health and safety of our patrons, staff, and guests.

Currently, Altria Theater is operating at 100% capacity and is strongly encouraging all patrons, whether vaccinated or not, to mask while at the venue. We do not have a vaccination or negative test requirement in place as a venue, although promoters of our upcoming shows are considering multiple options, including the possibility of masks, vaccines, and COVID-19 tests.

At this time, this show does not have any additional requirements in place for patrons outside of the standing venue policies. If there are any changes to the requirements prior to the show, patrons will be notified by email and the event page on the venue website will be updated.

For more information on other actions taken for your safety, please visit https://www.altriatheater.com/visit/health-and-safety.

We look forward to welcoming you back to our venues, and to providing a safe and enjoyable experience!