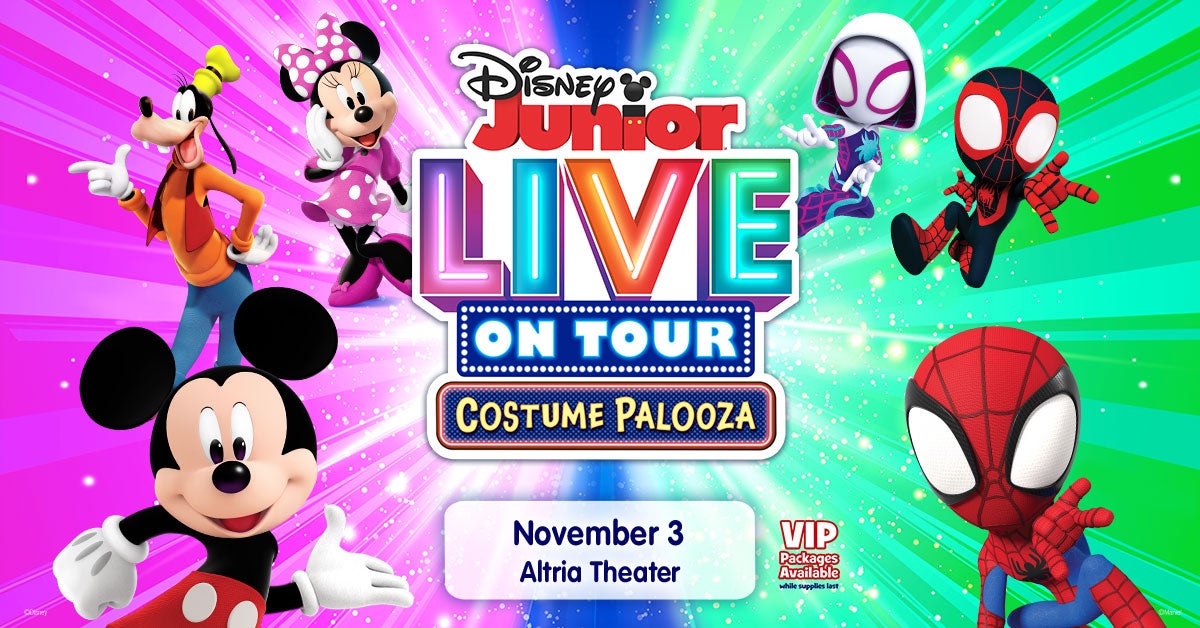 Disney Junior Live on Tour
Costume Palooza
Disney Junior Live on Tour
Costume Palooza
The Pollstar nominated Disney Junior tour is back with an ALL-NEW show, Disney Junior Live On Tour: Costume Palooza! This show brings beloved Disney Junior characters and favorite Marvel Super Heroes together live on stage for a jam-packed, concert-style show with singing, dancing, acrobatics, and more. It will feature favorite songs from hit Disney Junior series, as well as new original music. Mickey, Minnie, and their pals are getting ready to throw a huge costume party but mysterious green rain, wind, and smoke keep interrupting the fun. Can Spidey and his Amazing Friends help save the Costume Palooza? Come join the party!
Disney Junior Live on Tour: Costume Palooza debuts on September 2 and will visit 80 North American cities. Come see Mickey, Minnie, Goofy, Doc McStuffins, Alice, the Puppy Dog Pals, and Marvel's Spidey and his Amazing Friends LIVE on stage!
Group Sales

Groups of 10 or more save $5.00 per ticket, excluding price level 1. Plus, free popcorn and bottled water for each group ticket purchased! Visit our Group Sales page for more information or call 804-592-3401.

Disney Junior Costume Palooza VIP Package

VIP PACKAGE INCLUDES:

One (1) premium seat to see Disney Junior Live On Tour: Costume Palooza ● One (1) Invitation to the official Disney Junior Costume Palooza Pre-Party, including:
Admission to the VIP Pre-Party interactive experience– Get ready for the Costume Palooza with DIY activities, music, and more!
Character greeting with Mickey, Minnie, and Spidey – receive a special visit from your favorite friends before the Costume Palooza performance!**
One (1) Disney Junior Live On Tour VIP laminate and merchandise giftbag
Snacks and refreshments
On-site VIP experience host

*Please note, all ticket holders — both children and adults — are required to purchase a VIP Pass in order to attend the VIP Party.

**Characters are subject to availability

*** This VIP experience may be altered to comply with health and safety guidelines and policies, including but not limited to suggested and/or mandated local, state, and federal government regulations in effect at the time the event occurs. Please note social distancing measures may be put in place for this experience. Package contents are subject to change at any time.

Lap Policy

Disney Junior Live on Tour's lap policy is that children ages 1 or younger may attend and sit on their guardian's lap for free. All children ages 2+ require a ticket to attend.

COVID-19 Policies

ASM Richmond is committed to the health and safety of our patrons, guests, artists, performers, crew, and staff and we will continue to follow the latest health guidance and protocols. In light of the changing conditions with COVID-19 and the Delta variant, we are working closely with all of our promoters to ensure the health and safety of our patrons, staff, and guests.

Currently, Altria Theater is operating at 100% capacity and is strongly encouraging all patrons, whether vaccinated or not, to mask while at the venue. We do not have a vaccination or negative test requirement in place as a venue, although promoters of our upcoming shows are considering multiple options, including the possibility of masks, vaccines, and COVID-19 tests.

At this time, this show does not have any additional requirements in place for patrons outside of the standing venue policies. If there are any changes to the requirements prior to the show, patrons will be notified by email and the event page on the venue website will be updated.

For more information on other actions taken for your safety, please visit https://www.altriatheater.com/visit/health-and-safety.

We look forward to welcoming you back to our venues, and to providing a safe and enjoyable experience!