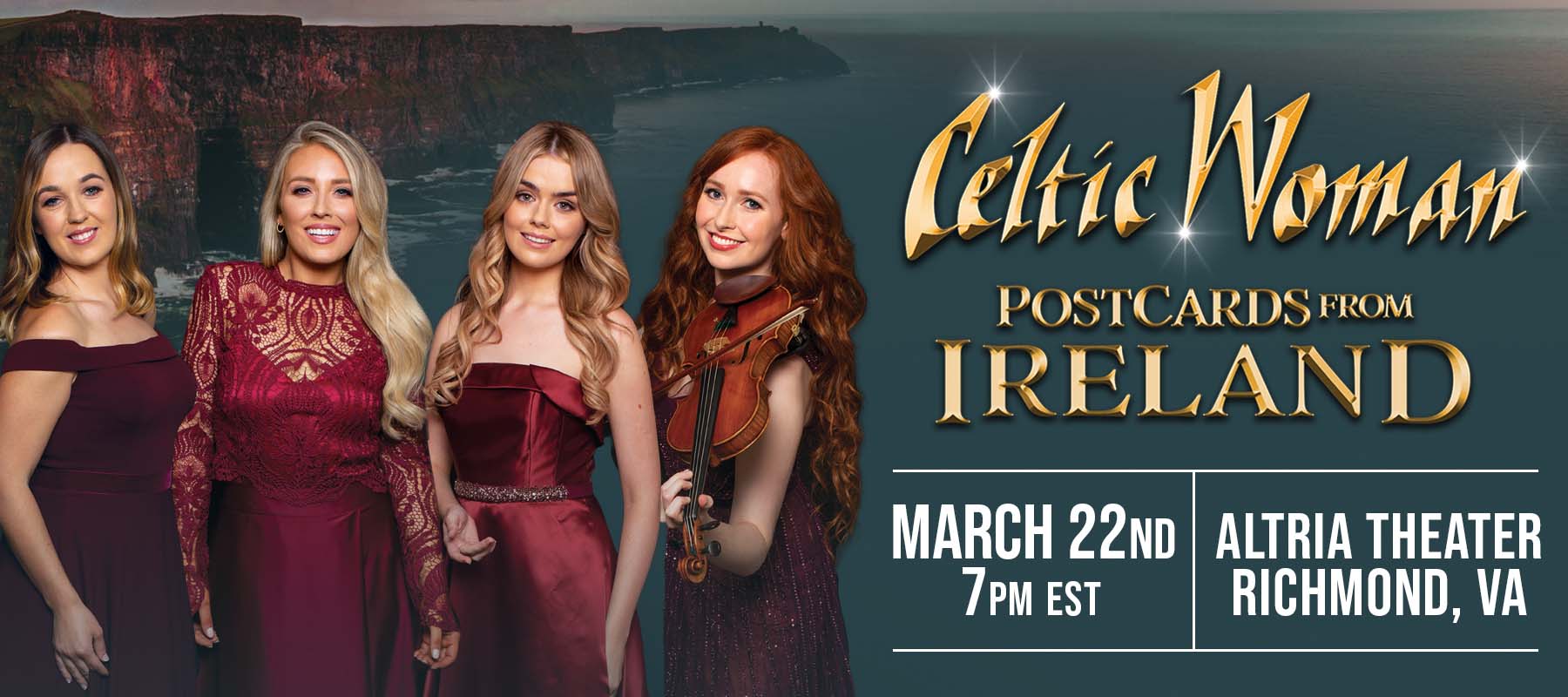 Celtic Woman
Postcards from Ireland
Celtic Woman
Postcards from Ireland
Grammy nominated global music sensation Celtic Woman is thrilled to return in 2022 with a brand-new show Postcards from Ireland.
Postcards from Ireland celebrates the rich musical and cultural heritage of Ireland; taking audiences on a journey of story and song from across the Emerald Isle.
Embrace an evening of angelic voices, breath-taking harmonies and instrumental virtuosity, transporting you from your theatre seat to the lush landscapes of Ireland.
Celtic Woman's fresh fusion of traditional Irish music and contemporary songcraft celebrates Ireland's ancient heritage while reflecting the vibrant spirit of modern Ireland.
With Irish dancers, bagpipers and an array of traditional Irish instruments - including the bodhran, tin whistle and uilleann pipes - this dynamic and multi-talented group has captivated audiences all around the world.
Join us for this very special show Postcards from Ireland, and experience the beauty ofIreland brought to life by Celtic Woman. For more information please visit www.celticwoman.com
Group Sales

Groups of 10 or more save $4 off single ticket pricing (excluding top priced tickets). Visit our Group Sales page for more information or call 804-592-3401 to place a group order.

COVID-19 Policies

ASM Richmond is committed to the health and safety of our patrons, guests, artists, performers, crew, and staff and we will continue to follow the latest health guidance and protocols. In light of the changing conditions with COVID-19 and the Delta variant, we are working closely with all of our promoters to ensure the health and safety of our patrons, staff, and guests.

Currently, Altria Theater is operating at 100% capacity and is strongly encouraging all patrons, whether vaccinated or not, to mask while at the venue. We do not have a vaccination or negative test requirement in place as a venue, although promoters of our upcoming shows are considering multiple options, including the possibility of masks, vaccines, and COVID-19 tests.

At this time, this show does not have any additional requirements in place for patrons outside of the standing venue policies. If there are any changes to the requirements prior to the show, patrons will be notified by email and the event page on the venue website will be updated.

For more information on other actions taken for your safety, please visit https://www.altriatheater.com/visit/health-and-safety.

We look forward to welcoming you back to our venues, and to providing a safe and enjoyable experience!