Wilco And Sleater-Kinney Announce Summer Co-Headlining Tour
Mar.

11

, 2020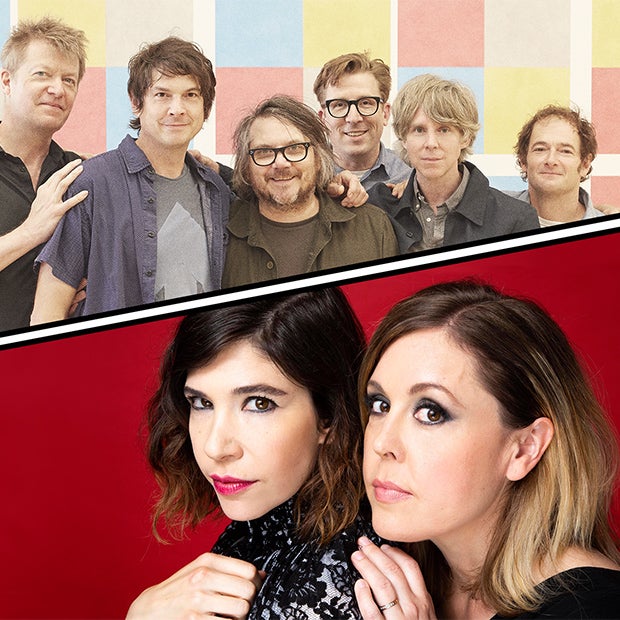 Richmond, Virginia (March 10, 2020) – Wilco and Sleater-Kinney are pleased to announce their "It's Time" Summer 2020 co-headlining tour. After their respective North American and European runs in support of last year's Ode To Joy (out now on dBpm Records), Wilco will return stateside, closing out each night of their co-headlining tour with Sleater-Kinney, who just closed out their The Center Won't Hold tour. The entirety of the tour is made up of outdoor amphitheatres and venues, including a show in Wilco's hometown of Chicago at Millennium Park's Pritzker Pavilion, Nashville's Ascend Amphitheater, Morrison, CO's Red Rocks Amphitheatre, and more. Tickets for these newly-announced shows are on sale this Friday, March 13th at 10am local time.
Wilco and Sleater-Kinney perform at Altria Theater on Wednesday, August 19, 2020 at 8:00PM. Tickets go on sale this Friday, March 13 at 10:00AM at the Altria Theater Box Office, online at AltriaTheater.com or Etix.com, and by phone at 800-512-ETIX (3849). Tickets start at $49.50. Additional fees apply.
Watch Wilco & Sleater Kinney's "It's Time Summer 2020" Tour Teaser -
Watch/Listen/Share:
"Everyone Hides" video - https://youtu.be/P2Gbbd6pVMg
"Love Is Everywhere (Beware)" stream - https://youtu.be/VamTQr4kcKA
"Before Us" video - https://youtu.be/BIWSGlvnbkU
Purchase Ode to Joy -
Download Wilco hi-res press images -
https://pitchperfectpr.com/wilco
Praise for Ode To Joy:
"[Ode to Joy is] sometimes dank...sometimes warm and Westerberg-ian"
- The New York Times
"The group's 11th LP, their best in years, is a beautiful exercise in downhearted uplift."
- Rolling Stone
"[Ode to Joy] is Wilco's best album in over a decade, and solid proof there's room for bands to grow even when they're already ten albums in." - Vulture
"[Ode To Joy] is direct and spacious, centering on the beauty of quiet revelation." - Pitchfork
"Ode to Joy, is mostly a slower-paced album that shows appreciation for the small, beautiful moments in life." - NPR
Wilcoworld.net | Facebook | Twitter | Instagram
###
For more information, contact:
Jessica Linker, Jacob Daneman, Sam McAllister | Pitch Perfect PR jessica@pitchperfectpr.com, jacob@pitchperfectpr.com, sam@pitchperfectpr.com
773-654-1477
About Altria Theater
Originally opening its doors as a mosque in 1927, and completing a major renovation in 2014, Altria Theater was designed in Moorish Revival architectural style and is one of the best known and most striking buildings in Richmond, Virginia. It is located just west of the city's downtown in the heart of the Virginia Commonwealth University campus, directly across from historic Monroe Park, and is the largest theater between New York and Atlanta. The 200,000 square foot theater has a seating capacity of 3,600 and hosts an enormously successful Broadway in Richmond series, the nationally acclaimed Richmond Forum, as well as countless concerts, kids shows, and comedians. In addition to the theater, the building boasts a beautiful Egyptian-styled ballroom and an abundance of functional space for corporate events, fundraisers, weddings, and private parties.