HAMILTON TRAFFIC/PARKING ADVISORY
Apr.

6

, 2023
Richmond, VA – Residents and patrons should expect heavy traffic and limited parking conditions on all routes to and near Altria Theater during the two-week engagement of HAMILTON, which runs Tuesday, April 11 – Sunday, 23, 2023 with 16 performances.
Patrons attending HAMILTON are encouraged to use ride share services such as Uber, Lyft, or taxi services, and are encouraged to arrive at the theater 45 minutes – 1 hour prior to showtime to allow for such conditions.
Patrons looking to park in the area should arrive early and locate street parking or plan to utilize one of two VCU managed parking deck facilities available, the VCU West Main Street parking deck or the VCU West Cary Street parking deck. The VCU West Main Street deck is located across the street from Altria Theater. The VCU West Cary Street deck is within a 10-minute walk. Please note, the fee to park in either of the decks is $10.00 per car, and both decks are CASHLESS. Capacity is limited, and space fills quickly. More information on parking and directions can be found here.
As the VCU West Main Street Deck hits capacity, all cars will be routed to the VCU West Cary Street Deck by parking attendants. Signage will also be utilized to assist in directing traffic. Again, patrons are urged to utilize ride share services to avoid parking in the area entirely.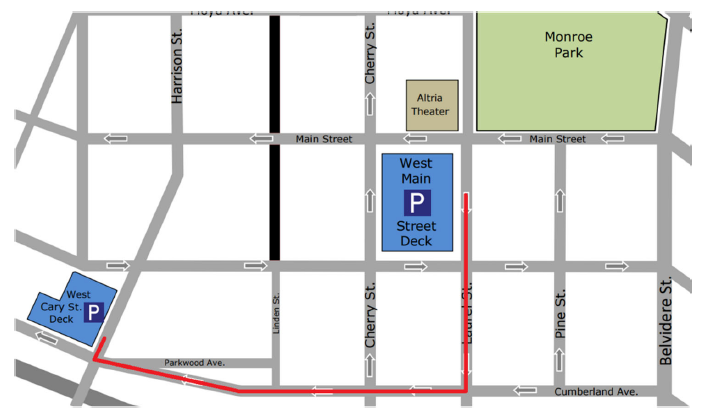 Directional Maps from VCU West Main Street Deck to VCU West Cary Street Deck provided by VCU MCV Parking
Additionally, patrons and travelers should note traffic and parking conditions will be extremely limited during two performances within the two-week engagement.
There will be a matinee performance on Thursday, April 20, 2023, at 1PM while day classes are in session.
The Ukrop's Monument Avenue 10K will take place in Richmond on Saturday, 4/22/23, beginning at 8AM. A post-race party will follow immediately afterward in Monroe Park, located directly across from the venue. Street closures and no parking zones will be in place on major roads adjacent to and north of the venue starting Thursday, 4/20/23. Traffic in the area will be increased.
West Main Street, beside the venue, will be open at all times.

Please see this link from the race producer noting road closures & no parking areas, starting Thursday, 4/20/23. We urge patrons and travelers to plan their travel accordingly and utilize ride share services for those attending the 2PM performance.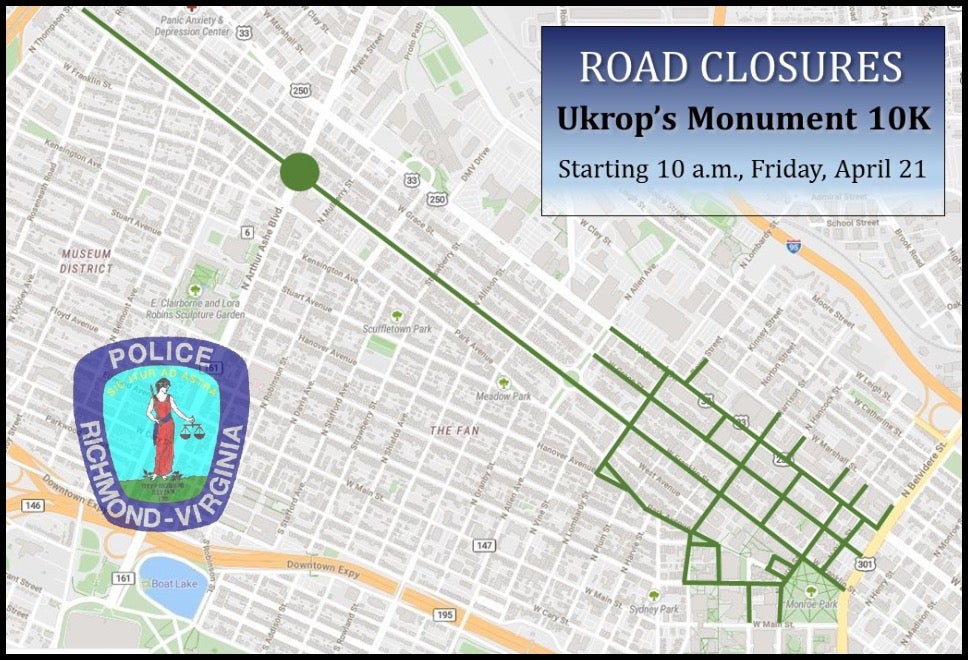 Residents and travelers in the area not attending HAMILTON are encouraged to plan alternate routes to avoid Altria Theater and the surrounding areas at the following times:
Apr. 11 Tuesday 7:30 PM SHOWTIME
Apr. 12 Wednesday 7:30 PM SHOWTIME
Apr. 13 Thursday 7:30 PM SHOWTIME
Apr. 14 Friday 8:00 PM SHOWTIME
Apr. 15 Saturday 2:00 PM SHOWTIME
Apr. 15 Saturday 8:00 PM SHOWTIME
Apr. 16 Sunday 1:00 PM SHOWTIME
Apr. 16 Sunday 7:00 PM SHOWTIME
Apr. 18 Tuesday 7:30 PM SHOWTIME
Apr. 19 Wednesday 7:30 PM SHOWTIME
Apr. 20 Thursday 1:00 PM SHOWTIME – Matinee Performance
Apr. 20 Thursday 7:30 PM SHOWTIME
Apr. 21 Friday 8:00 PM SHOWTIME
Apr. 22 Saturday 2:00 PM SHOWTIME – Ukrop's Monument Avenue 10k
Apr. 22 Saturday 8:00 PM SHOWTIME
Apr. 23 Sunday 1:00 PM SHOWTIME