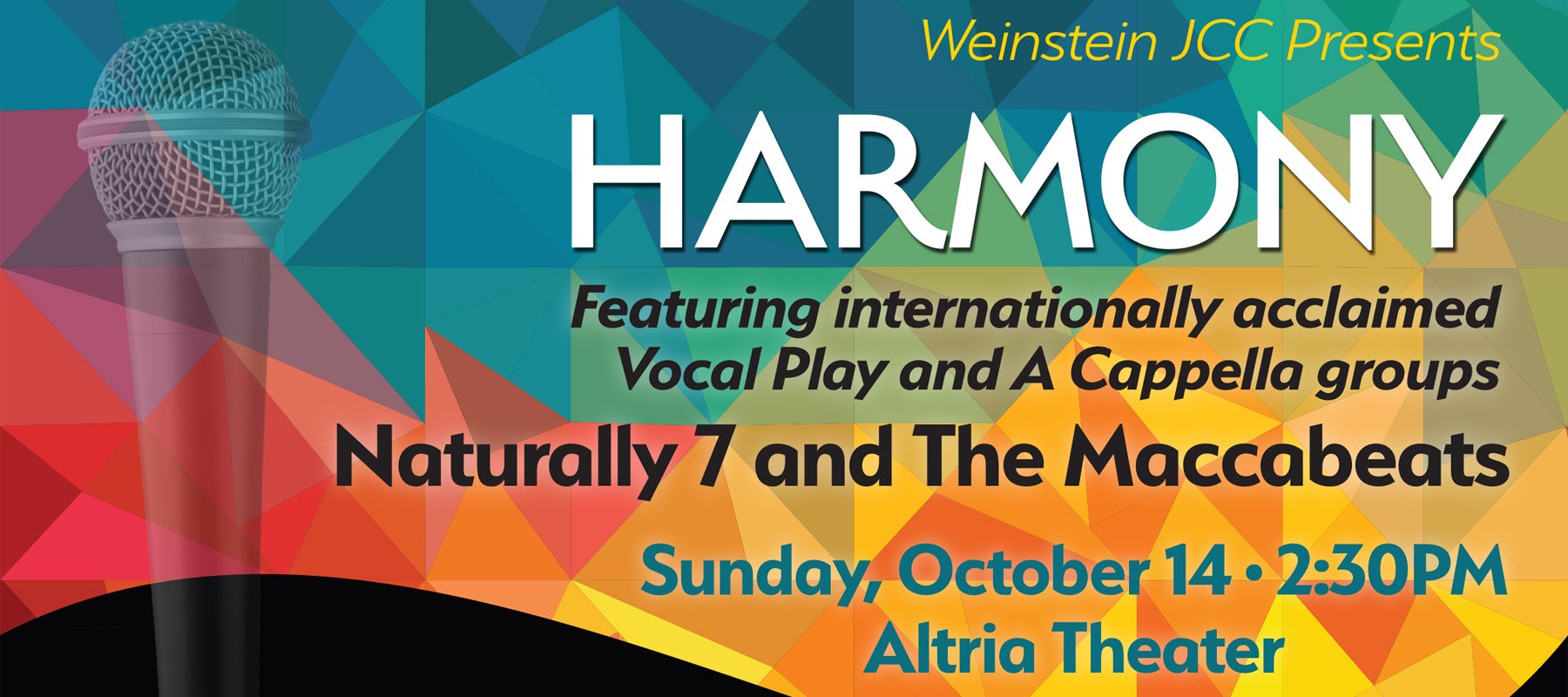 Weinstein JCC presents HARMONY
Featuring Naturally 7 & The Maccabeats
Weinstein JCC presents HARMONY
Featuring Naturally 7 & The Maccabeats
The HARMONY concert features two world-acclaimed A Cappella groups, The Maccabeats, a Jewish group formed in 2007 at Yeshiva University, and Naturally 7, a American beat-boxing vocal group. Having shared the stage only one other time, on MLK Day 2016, these two musical sensations will perform together for the Richmond community at the Altria Theater on October 14.
The Maccabeats
Using nothing more than the human voice, a clean-cut presentation, and a little Jewish humor, this A Cappella group connects with fans of all ages. A Cappella, which comes from the Latin for "instruments are too expensive," is a style of music that has recently enjoyed an explosion in popularity and variety, and the Maccabeats have taken advantage of many of today's cutting-edge techniques, technologies, and technicians in producing their recordings.
Naturally 7
Naturally 7 is more than an A Cappella group, they've defined their own genre, Vocal Play, to reflect that each of the members isn't just singing, but rather becoming an instrument with their voice. There are no actual drums, guitars, horns, flutes, or any other instrument that is heard when listening to them perform; it's the band members playing each of their vocal instruments. The Boston Globe said "It was like a striking optical illusion, only aural."
HARMONY is the fusion of spectacular vocals and distinct singing styles. By bringing this unique musical collaboration to Richmond, we hope to provide an opportunity for individuals of all ages to experience live A Cappella music performed by two internationally recognized performing groups with rich cultural traditions. Together, the Maccabeats and Naturally 7 will inspire and entertain audiences of all ages,
fans new and old, with a common message of HARMONY.
Ticket Information

Tickets available at the Altria Theater and Dominion Energy Center box offices, by phone at (800) 514-3849 and online at etix.com. Ticket prices subject to change and subject to applicable fees.

Group Sales

Save 20% on tickets to the show when purchasing 20 or more through our Group Sales Office. Call 804-592-3401 or email us at [email protected].