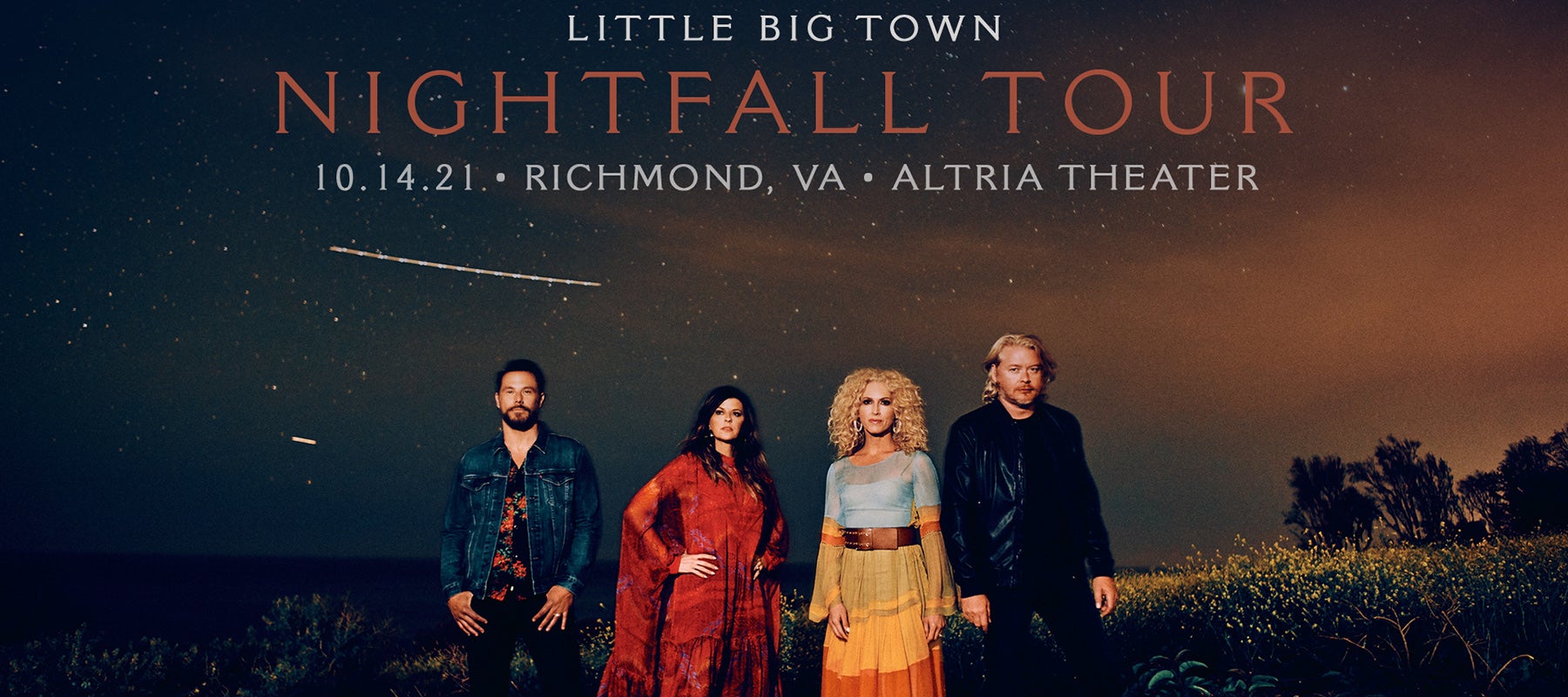 Little Big Town
Nightfall Tour
Little Big Town
Nightfall Tour
GRAMMY, ACM, CMA, and AMA Award-winning group, Little Big Town -- consisting of members Karen Fairchild, Phillip Sweet, Kimberly Schlapman, and Jimi Westbrook -- first entered the music scene over 20 years ago with hit songs "Boondocks," "Bring It On Home," "Good As Gone" and the GRAMMY-nominated "Little White Church." The bands breakthrough albums Tornado and Pain Killer produced multiple #1 singles, including "Pontoon," "Tornado," and "Day Drinking," as well as the history-making, best-selling country single of the year (2015) "Girl Crush." 2017's, The Breaker, debuted #1 on the Billboard Country Charts and Top 10 (No.4) on the Billboard 200 to critical acclaim. The album features their GRAMMY-winning, multi-week #1 single, "Better Man," as well as the 2019 GRAMMY-nominated, "When Someone Stops Loving You." Critically acclaimed and GRAMMY-nominated "The Daughters," "Over Drinking," and current single "Wine, Beer, Whiskey" are the latest from the bands self-produced ninth studio album Nightfall which was released at the top of the Billboard Country Charts in January of 2020. To date "Wine, Beer, Whiskey" has reached global streams of over 152 Million and I climbing the country radio charts.
Little Big Town has earned more than 45 award show nominations and has taken home nearly 20 awards, including multiple GRAMMY, AMA, People's Choice, CMA, ACM awards, and an Emmy award.
The band recently launched 4 Cellars wine and Day Drinking canned wine spritzers, their first non-musical project as a band, with Browne Family Vineyards.
For more information on Little Big Town visit LittleBigTown.com or follow them @littlebigtown.
COVID-19 Policies

ASM Richmond is committed to the health and safety of our patrons, guests, artists, performers, crew, and staff and we will continue to follow the latest health guidance and protocols. In light of the changing conditions with COVID-19 and the Delta variant, we are working closely with all of our promoters to ensure the health and safety of our patrons, staff, and guests.

Currently, Altria Theater is operating at 100% capacity and is strongly encouraging all patrons, whether vaccinated or not, to mask while at the venue. We do not have a vaccination or negative test requirement in place as a venue, although promoters of our upcoming shows are considering multiple options, including the possibility of masks, vaccines, and COVID-19 tests.

At this time, this show does not have any additional requirements in place for patrons outside of the standing venue policies. If there are any changes to the requirements prior to the show, patrons will be notified by email and the event page on the venue website will be updated.

For more information on other actions taken for your safety, please visit https://www.altriatheater.com/visit/health-and-safety.

We look forward to welcoming you back to our venues, and to providing a safe and enjoyable experience!