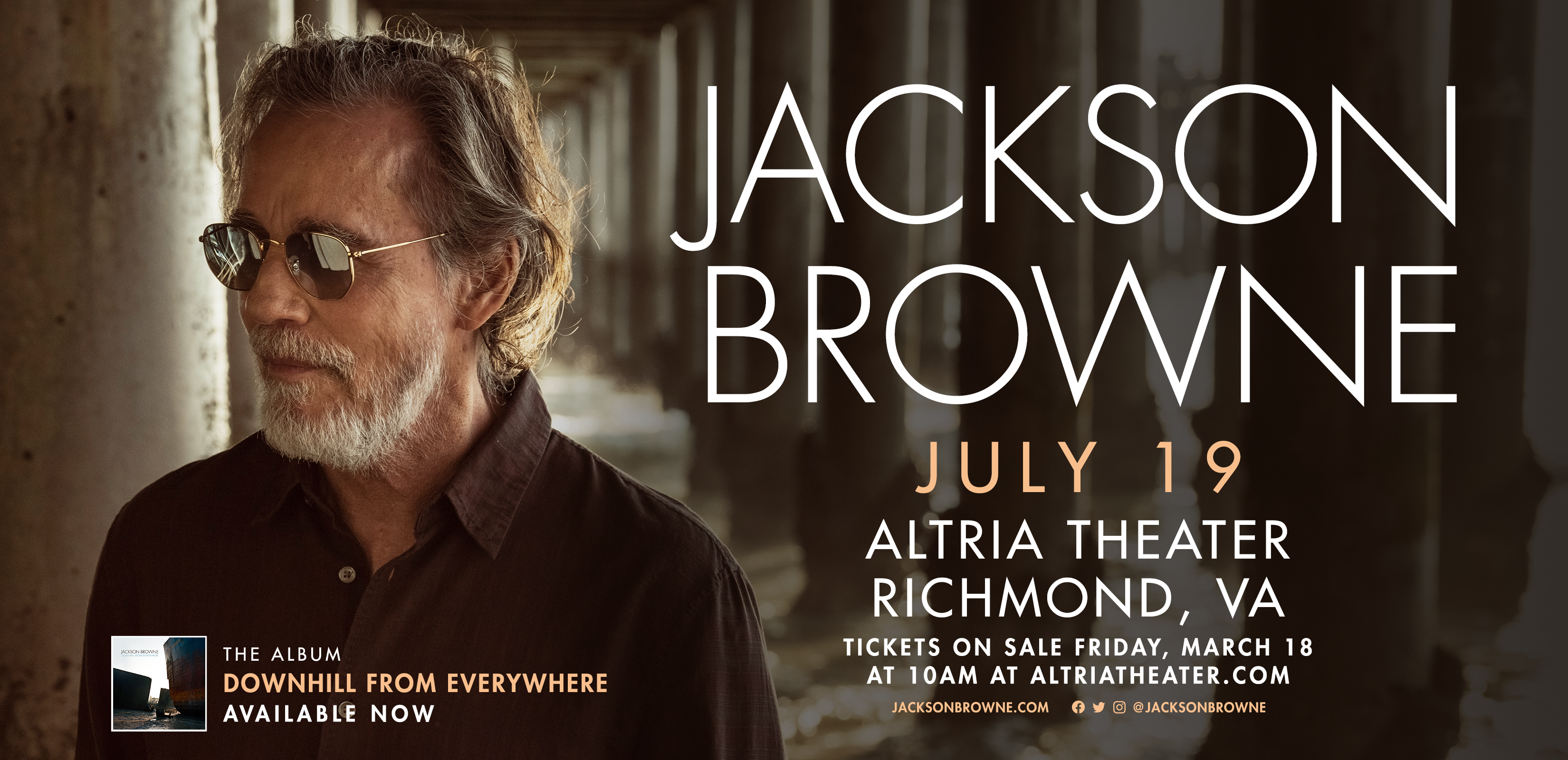 An Evening with Jackson Browne
An Evening with Jackson Browne
Jackson Browne has written and performed some of the most literate and moving songs in popular music and has defined a genre of songwriting charged with honesty, emotion and personal politics. He was inducted into the Rock and Roll Hall of Fame in 2004 and the Songwriter's Hall of Fame in 2007.
Except for a brief period in NYC in the late 1960s, Jackson has always lived in Southern California. His debut album came out on David Geffen's Asylum Records in 1972. Since then, he has released fourteen studio albums, four collections of live performances, two "best of" compilations, two DVDs and several single recordings. Jackson's newest studio album, "Downhill From Everywhere" was released in July 2021 and GRAMMY nominated for Best Americana Album.
Browne is known for his advocacy on behalf of the environment, human rights, and arts education. He's a co-founder of the groups Musicians United for Safe Energy (MUSE) and Nukefree.org and a member of the Ocean advocacy group, Ocean Elders.
In 2002, he was the fourth recipient of the John Steinbeck Award, given to artists whose works exemplify the environmental and social values that were essential to the great California-born author. He has received Duke University's LEAF award for Lifetime Environmental Achievement in the Fine Arts, and both the Chapin-World Hunger Year and NARM Harry Chapin Humanitarian Awards. In 2004, Jackson was given an honorary Doctorate of Music by Occidental College in Los Angeles, for "a remarkable musical career that has successfully combined an intensely personal artistry with a broader vision of social justice."
COVID-19 Policies

ASM Richmond is committed to the health and safety of our patrons, guests, artists, performers, crew, and staff and we will continue to follow the latest health guidance and protocols. In light of the changing conditions with COVID-19 and the Delta variant, we are working closely with all of our promoters to ensure the health and safety of our patrons, staff, and guests.

Currently, Altria Theater is operating at 100% capacity and is strongly encouraging all patrons, whether vaccinated or not, to mask while at the venue. We do not have a vaccination or negative test requirement in place as a venue, although promoters of our upcoming shows are considering multiple options, including the possibility of masks, vaccines, and COVID-19 tests.

At this time, this show does not have any additional requirements in place for patrons outside of the standing venue policies. If there are any changes to the requirements prior to the show, patrons will be notified by email and the event page on the venue website will be updated.

For more information on other actions taken for your safety, please visit https://www.altriatheater.com/visit/health-and-safety.

We look forward to welcoming you back to our venues, and to providing a safe and enjoyable experience!