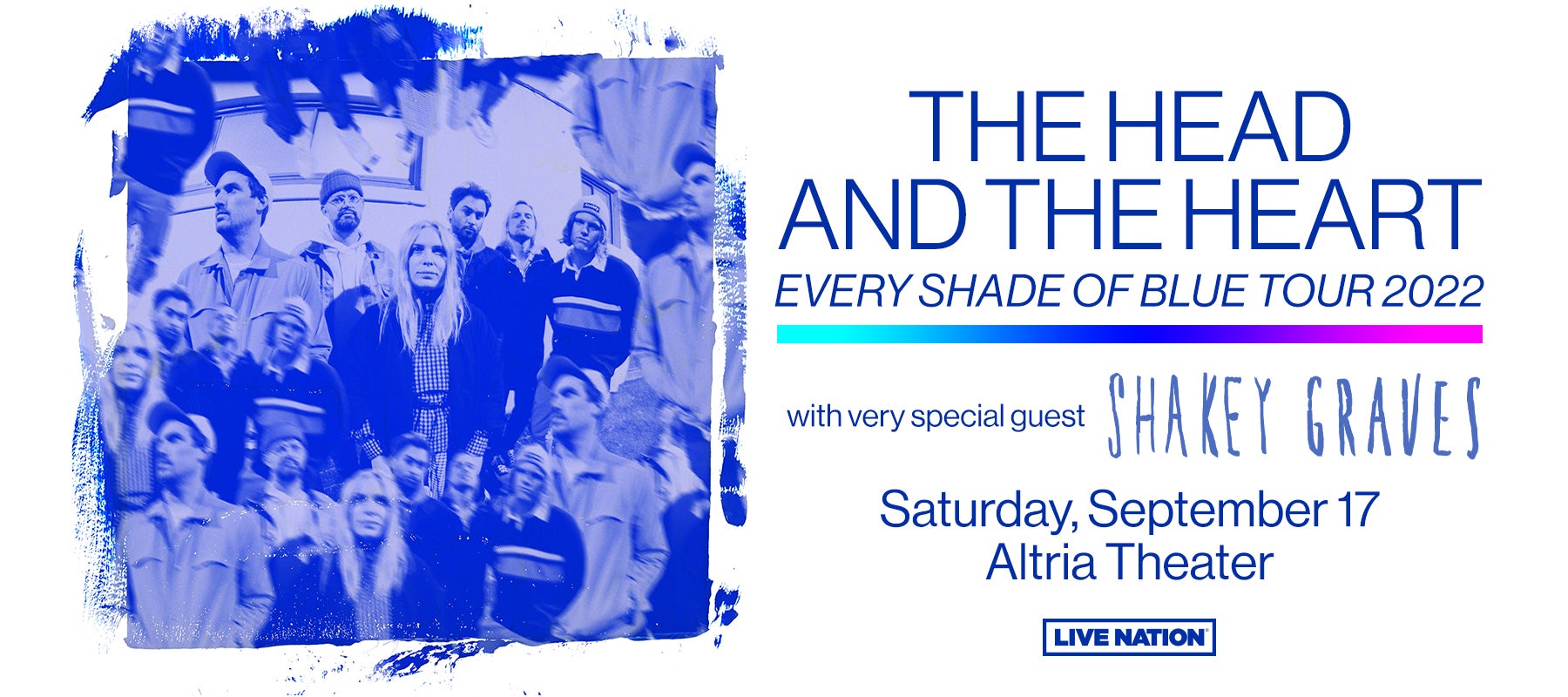 The Head and The Heart
Every Shade of Blue Tour
The Head and The Heart
Every Shade of Blue Tour
The Head and The Heart perform in Richmond, VA on 9/17/22 with very special guest Shakey Graves!
Initially self-released in 2011, The Head and The Heart's self-titled breakout debut produced instant classics including "Rivers and Roads," "Down In The Valley" and "Lost In My Mind" (#1 at AAA) and is now Certified Gold. 2013's Let's Be Still and 2016's Signs of Light, settled into Billboard's Top 10 albums chart, with Signs of Light securing the #1 position on Rock Album Charts, securing the band's first #1 at Alternative position with "All We Ever Knew" and also held the #1 spot at AAA for nine straight weeks. The band's fourth full-length album, Living Mirage, was released to critical praise in 2019. "Missed Connection" which secured the #1 position on the Alternative Chart and #1 at Mediabase and BDS alternative charts, already having achieved #1 on the AAA chart. The album's breakout track, "Honeybee", became a fan favorite with 153M+ total global streams and 1M+ global weekly streams. They have appeared in Cameron Crowe's Roadies, with music featured in countless other commercials, films and TV, among them Corona, Silver Linings Playbook and more. The band has established their status as a touring powerhouse, having landed prime time mainstage slots at Coachella, Lollapalooza and Austin City Limits. In total, the band has performed 15 times on national television including appearances on Ellen, The Tonight Show Starring Jimmy Fallon, The Late Show With Stephen Colbert, Austin City Limits with more.
COVID-19 Policies

ASM Richmond is committed to the health and safety of our patrons, guests, artists, performers, crew, and staff and we will continue to follow the latest health guidance and protocols. In light of the changing conditions with COVID-19 and the Delta variant, we are working closely with all of our promoters to ensure the health and safety of our patrons, staff, and guests.

Currently, Altria Theater is operating at 100% capacity and is strongly encouraging all patrons, whether vaccinated or not, to mask while at the venue. We do not have a vaccination or negative test requirement in place as a venue, although promoters of our upcoming shows are considering multiple options, including the possibility of masks, vaccines, and COVID-19 tests.

At this time, this show does not have any additional requirements in place for patrons outside of the standing venue policies. If there are any changes to the requirements prior to the show, patrons will be notified by email and the event page on the venue website will be updated.

For more information on other actions taken for your safety, please visit https://www.altriatheater.com/visit/health-and-safety.

We look forward to welcoming you back to our venues, and to providing a safe and enjoyable experience!