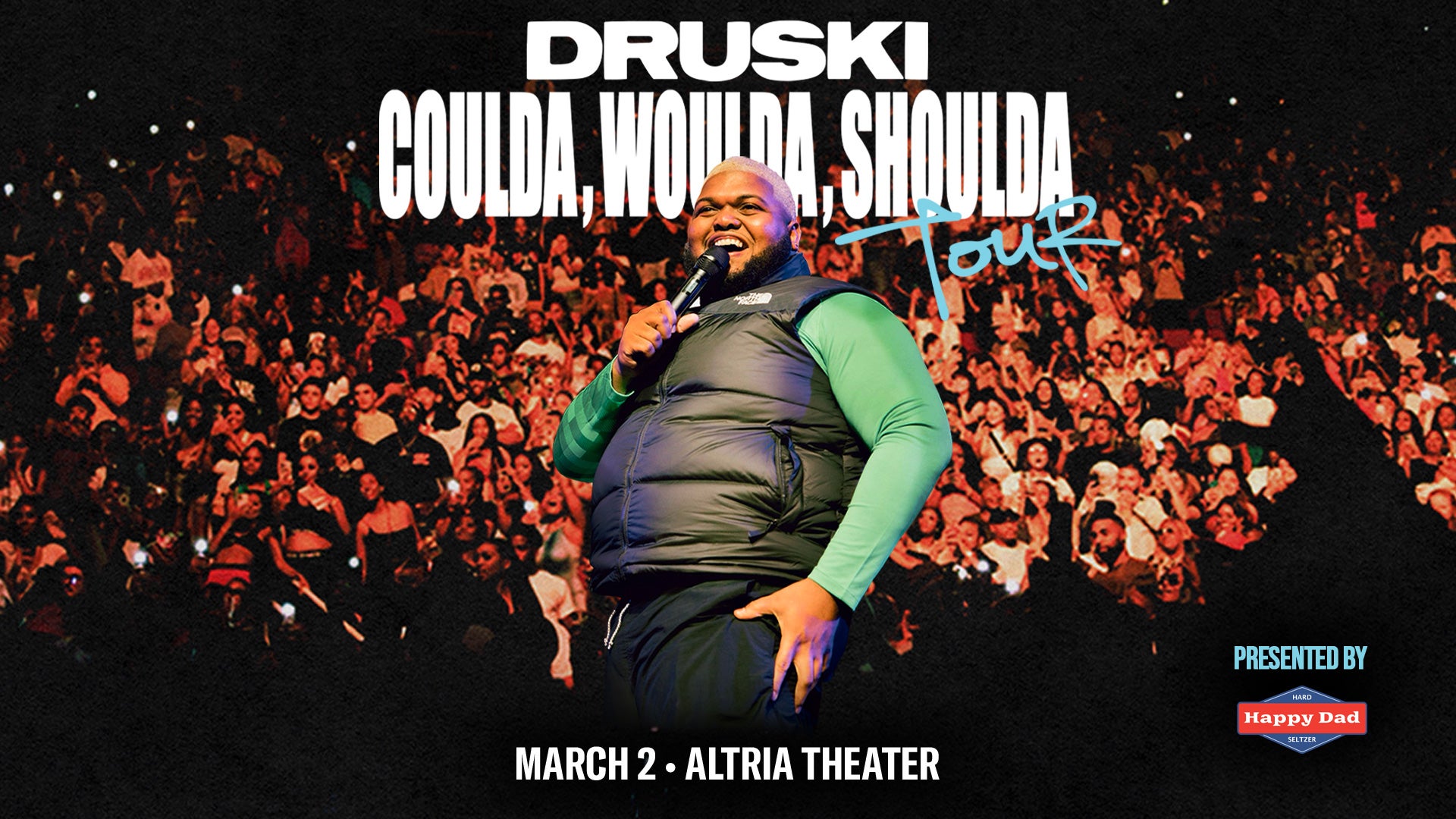 DRUSKI: COULDA, WOULDA, SHOULDA
DRUSKI: COULDA, WOULDA, SHOULDA
Acclaimed comedian, actor, and entrepreneur Druski comes to Richmond, Virginia with his first-ever, headlining comedy tour titled Coulda, Woulda, Shoulda, presented by Happy Dad Hard Seltzer.
Most recently, Druski served as the opener for Chris Brown and Lil Baby's joint "One of Them Ones" tour, during the summer of 2022. He was also the official host of J. Cole's "The Off-Season" arena tour in 2021 that also included appearances by 21 Savage and Morray.
Since his breakthrough, Druski has evolved into a multi-hyphenate force, having been tapped to appear in music videos for the likes of Drake, Jack Harlow, Chloe Bailey, Lil Yachty and more. Additionally, he's starred in a wide array of commercials for brands such as Bud Light Seltzer, Beats By Dre, AT&T, Call of Duty, Mountain Dew, KFC, Happy Dad Hard Seltzer, and Google Pixel.
Druski also has several TV and film productions in the works and, most notably, will appear alongside Chloe Bailey & Quavo in the comedy, "Praise This," produced by Will Packer.
Navv Greene is a multi-faceted entertainer known for his live comedy, television, situational comedies roles, and film. His ability to perform in a variety of different comedy genres including hosting, improv, and clean comedy, makes him the comedic genius that he is…
Greene has appeared on television in a variety of different capacities. Most recently (2019), The sitcom Last Call with Carl Payne, Charles Whitfield and T.C. Carson he was also a featured guest on the reality TV series Welcome to Sweetie Pie's and Leave it to Stevie. He was also featured on 3 episodes of MTV's Yo Momma Season 3. Many episodes on The 85 South Show as well as the live tour opener.
Greene also acted alongside Eddie Murphy, Arsenio Hall, Leslie Jones, and Tracy Morgan in the recent Coming 2 America. He has also performed alongside DC Young Fly, Emanuel Hudson, Rodney Perry, and Ernestine Johnson, in the 2017 film #DigitalLivesMatter playing the role of the uber driver / Shift leader. He has also appeared in other films such as Dirty South House Arrest (2017) and also Merry Wishmas (2018) with David and Tamela Mann. Some of Greene's most recognizable roles include his "Shiftleader" and "Professor Fleek" roles. These roles have helped him accumulate over 150,000 followers.
COVID-19 Policies

ASM Richmond is committed to the health and safety of our patrons, guests, artists, performers, crew, and staff and we will continue to follow the latest health guidance and protocols. In light of the changing conditions with COVID-19 and the Delta variant, we are working closely with all of our promoters to ensure the health and safety of our patrons, staff, and guests.

Currently, Altria Theater is operating at 100% capacity and is strongly encouraging all patrons, whether vaccinated or not, to mask while at the venue. We do not have a vaccination or negative test requirement in place as a venue, although promoters of our upcoming shows are considering multiple options, including the possibility of masks, vaccines, and COVID-19 tests.

At this time, this show does not have any additional requirements in place for patrons outside of the standing venue policies. If there are any changes to the requirements prior to the show, patrons will be notified by email and the event page on the venue website will be updated.

For more information on other actions taken for your safety, please visit https://www.altriatheater.com/visit/health-and-safety.

We look forward to welcoming you back to our venues, and to providing a safe and enjoyable experience!