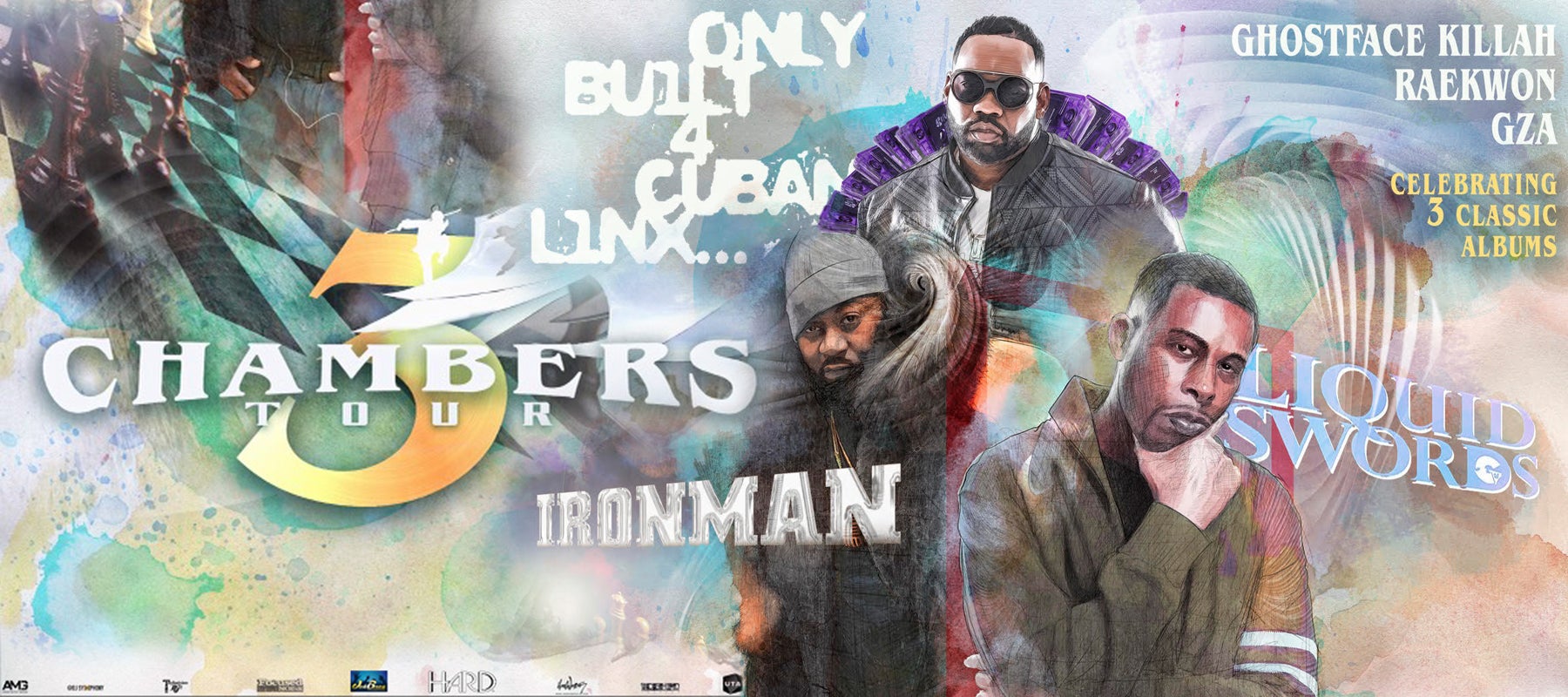 3 Chambers Tour: Raekwon x Ghostface x GZA
3 Chambers Tour: Raekwon x Ghostface x GZA
The 3 Chambers Tour will celebrate the legacy of Raekwon, Ghostface Killah, and GZA and three of the best albums in the history of Hip Hop: GZA's Liquid Swords, Raekwon's Only Built 4 Cuban Linx, and Ghostface's Ironman.
RAEKWON
PERFORMING "ONLY BUILT 4 CUBAN LINX"
In 1993, hip-hop would be forever changed by the emergence of the gritty, Shaolin style of the seminal rap clique, the Wu-Tang Clan. Straight from the streets of Staten Island , New York , a unique conglomerate of nine individually exceptional lyricists flourished. Fondly referred to as the Wu, RZA, Method Man, Raekwon, Ghostface Killah, Inspectah Deck, GZA, U-God, Masta Killa, and Ol' Dirty Bastard, released the epic album Enter The Wu-Tang: 36 Chambers. This debut garnered rave reviews because it provided listeners with a fresh approach to hip-hop. Moreover, the Wu set trends in a time when hip-hop's radio play and sales were championed largely by west coast artists. The Wu style was soon imitated. Their grimy, sparse beats and incredibly diverse lyrical flows, which creatively drew from Kung-Fu flicks, became the musical blueprint for many hip-hop cliques. To this day, the Wu-Tang's impact on hip-hop culture is unyielding. The Wu not only influenced the state of music as a group but also as individuals. Each members is possessed his own exceptional characteristics which attracted cult followings. Raekwon (the Chef), one of the nine talented emcees, shined as the purist of lyricists. When the time came for him to release his first solo album, Only Built 4 Cuban Linx (1995), hip-hop, once again, underwent a momentous transformation. To give an accurate analogy Cuban Linx is to albums what Scarface is to movies. In fact, this classic album, which went gold in three days moves from track to track like a film moves from scene to scene. With its invigorating instrumentals and dramatic lyrical tales, Raekwon painted vivid pictures and presented powerful imagery through his enchanting verbal expression. Rae's ground breaking debut album helped to bring the flavour of flossing to wax as well as the use of the moniker among Wu brethren and other prominent emcees. The single "Verbal Intercourse" featured the first appearance of Nas Escobar, Nas' alter ego. Similarly, Raekwon and Ghostface Killah, who served as Rae's partner in rhyme throughout the entire Cuban Linx album, also developed a slew of other identities. Identities like Lex Diamond, one of the flashy, witty and intellectually stimulating personas of the multifaceted Raekwon. In the years after the release of Cuban Linx, Raekwon continued to record several albums with the Clan including the platinum Wu-Tang Forver (1997) and The W (2000), as well as the gold Iron Flag (2001). He also starred in the critically acclaimed film Black and White, before releasing his second solo album, Immobilarity in 1999. Four years later, it's time for another masterpiece from Raekwon. The Lex Diamond Story, Raekwon's forthcoming third solo album is that desperately needed effort. This new LP is as much a reflection of his first musical triumph Cuban Linx, as it is a manifestation of the future and what is to come from this great emcee. Raekwon is like the E.F. Hutton of hip-hop: when he speaks, everyone listens. The current void in hip-hop is filled with this rap veteran's crafty verbal gymnastics and artistic form of storytelling. The Lex Diamond Story takes the top shelf elements of the Wu's first album and the finest sentiments of Raekwon's debut and joins them together to deliver another classic album to the masses. A lyrical gourmet meal, The Lex Diamond Story shows that The Chef still possesses the recipe to cook up a jambalaya of words with the main ingredient being superior skills. Animated and intense, Raekwon's stealth delivery is filled with emotion, skilled cadence and an array of diverse stories, hooks, and topics. The track, "All Over Again (The Way We Were)" touches on the flavour of "Can It Be All So Simple" with its tale of street survival. Meanwhile, "Pit Bull Fights" is reminiscent of the ferocious lyrical beating inflicted on "Incarcerated Scarfaces." Raekwon is indisputably at his creative beast. Unchained and uninhibited, he is assertive with his music and focused on his goals. In addition to the forthcoming The Lex Diamond Story, Raekwon has an entrepreneurial endeavour boiling called "Ice Water." Ice Water Inc. is the name of his multipurpose business venture and partnership with Randy Spelling (son of TV mogul Aaron Spelling). The company is composed of music, movies, fashion, books and a four-man group named Ice Water. Having already worked with a diverse selection of talented artists including Nas, Jodeci, Mya, the late Big Punisher, Outkast, Mobb Deep and many others, Raekwon is now helping to develop rappers. Polite, Cigzra, Problem Child (PC) and Stumik together form the group Ice Water. But first, Raekwon plans to deliver his instructional musical dissertation The Lex Diamond Story. The soon to be landmark recording offers a new millennium musical blueprint with just enough seasoning of the old and spice of the new. Get ready for another mountain moving event!
Links: Facebook | Instagram | Twitter | Spotify
GHOSTFACE KILLAH
PERFORMING "IRONMAN"
Wu-Tang's Iron Man sums up his move to Def Jam succinctly: "Same music, different label." For Tony Starks's legions of fans, those four words should bring dope music to their ears-literally. Yep, Ghost is back with his fourth solo LP, The Pretty Toney Album, and ain't nothing changed but the imprint.
Nearly three years have passed since 2001's Bulletproof Wallets, and Ghost is anxious to inject his lyrical wizardry back into the rap game. "When you get something real vintage and out of the ordinary, best believe that shit gonna stand out," says the Staten Island native. "That's how I try to keep my music." A quick check of his resum makes it clear that Ghostface's music always makes a splash. From his 1996 debut Ironman, to 2000's epic Supreme Clientele, to his last release Wallets, Ghost has more front-to-back classic albums than most rappers have singles. Add his appearances from the Wu-Tang galaxy of hits on songs like "Can It Be All So Simple," and "Ice Cream" and it's no idle boast when Ghost describes himself as "one of the most creative niggas in the game."
What sets the Wally Champ apart from other MCs is his inimitable style. "I'll make a n'gga cry in a minute. I'll make you happy. I'll make a bitch wanna fuck you," says Ghost. "Those are my techniques. And that's the advantage I have over a lot of MCs, because a lot of them is stuck so much in one way, once they try to come out of that realm, people might not take them seriously. I'm a universal rapper." Whether it's heard in the club or in your headphones, The Pretty Toney Album proves that Ghostface's run of instant classic is far from over. "I'm not going nowhere for a minute," says Ghost. "I see myself rhyming until I'm 70... not saying I'm gonna be putting out records and all that, but this is a gift from God." And like a star player traded to a new team, Ghost is ready to show and prove for Def Jam. "I ain't finish balling out yet," he says with a smile. "This is the beginning."
Links: Official Website | Facebook | Instagram | Twitter | Spotify
GZA
PERFORMING "LIQUID SWORDS"
Born in Brooklyn, NY and raised in every borough of New York City, The GZA's workmanship can be found three albums deep with classics dating back to 1991 including the albums Words From The Genius, the gold-selling Liquid Swords and Beneath The Surface. Before his days of microphone notoriety, GZA found himself, during the early ages of rap music, travelling throughout New York City sharpening his rap skills in scattered rhyme battles. "I've studied rap in every borough," the GZA says proudly. "I've been rhyming before a lot of these cats out here were born. We've [Wu Tang Clan] always drank, ate and slept hip-hop. I love it." On his latest blockbuster album Legend Of The Liquid Sword, The GZA makes reference to his hip- hop foundation on the reflective Fam (Members Only) "I grew up around B-Boys, DJs, MCs, through rap, never thinking in ways of TV," the Genius raps. "It was strictly all about magnificent rhyme clout."

During GZA's travels, he encountered other rap veterans that recognized his promise and helped to nurture his talent. "I watched a lot of people come up that are big now," Genius says earnestly. "I used to make demo tapes with cats that rocked with Russell Simmons and people like that. The history goes so far back; I've always been really focused on writing dope rhymes."

The GZA's dream of perfection has been realized once again on his fourth album to date. Legend Of The Liquid Sword not only regains the powerful momentum started by the last three releases, it adds to the Genius' verbal legacy with uncompromising integrity. Heat-seeking darts like the introspective, Auto Bio where GZA breaks down the elements of his life that created the man he is and the crime thriller Luminal.

What has always set The GZA apart from the ordinary is his ability to create complex images with simple context. In the same way it's said that a picture is worth a thousand words, Genius assembles his words to create thousands of vivid pictures. "I don't like to just be simple," he explains. "Even though some of my stuff can seem simple at times, I like to write in a way that when you listen to it over and over again, you hear something new and it requires you to think." Legend Of The Liquid Sword does just that. Whether the listener gets captured by the vocal acrobatics of Santi White (who has written songs for Res) on GZA's Stay In Line or the authentic old school soul production on the masterpiece Animal Planet, Genius weaves satisfying brain food through his lyrics. In his phenomenally cerebral use of metaphors, The Genius flawlessly equates human city dwellers to animals in the jungle on Animal Planet, which was produced by rhythm doctor Bink (who has produced heavyweight joints for Fat Joe, Nate Dogg, Mr. Cheeks and Faith Evans). With beats by fellow Wu Tang brother RZA, Jaz-O (Jay-Z's Reasonable Doubt album), DJ Muggs (who has produced for Cypress Hill, Mobb Deep), Wu producer Mathematics (Ol' Dirty Bastard, Method Man, Sunz of Man), Arabian Knight and other sonic masterminds, GZA's talents come across even heavier. On the adrenaline raising Hip Hop call to arms, Knock, Knock (the album's shining debut single), The GZA asks on the chorus, "knock, knock, who the f*** is banging at my door, is it abstract, commercial or hardcore?" In his signature way of ill rhyme construction, GZA further defines the parameters of what rap music should be.

Don't call GZA's comeback just a comeback, it's a return of an entirely revolutionary thought process. "When we did Back In The Game on the Wu-Tang Iron Flag album, I did a verse about gambling," he explains solidly. "I didn't want to be 'back in the game' or 'back on the block,' that's typical. I made it all metaphorical." It's those same metaphors that makes the Genius' liquid sword a living legend in it's own time.
COVID-19 Policies

ASM Richmond is committed to the health and safety of our patrons, guests, artists, performers, crew, and staff and we will continue to follow the latest health guidance and protocols. In light of the changing conditions with COVID-19 and the Delta variant, we are working closely with all of our promoters to ensure the health and safety of our patrons, staff, and guests.

Currently, Altria Theater is operating at 100% capacity and is strongly encouraging all patrons, whether vaccinated or not, to mask while at the venue. We do not have a vaccination or negative test requirement in place as a venue, although promoters of our upcoming shows are considering multiple options, including the possibility of masks, vaccines, and COVID-19 tests.

At this time, this show does not have any additional requirements in place for patrons outside of the standing venue policies. If there are any changes to the requirements prior to the show, patrons will be notified by email and the event page on the venue website will be updated.

For more information on other actions taken for your safety, please visit https://www.altriatheater.com/visit/health-and-safety.

We look forward to welcoming you back to our venues, and to providing a safe and enjoyable experience!

Meet & Greet Tickets

Hard Cream Presents: Meet and Greet with Ghostface

Add-on a post-show meet and greet with Ghostface Killah to your ticket purchase. Limited tickets available.

Purchase includes access to the post-show meet & greet with Ghostface Killah, a photo opportunity, and a signed can of his new energy drink Hard Cream, with a four-pack to take home.