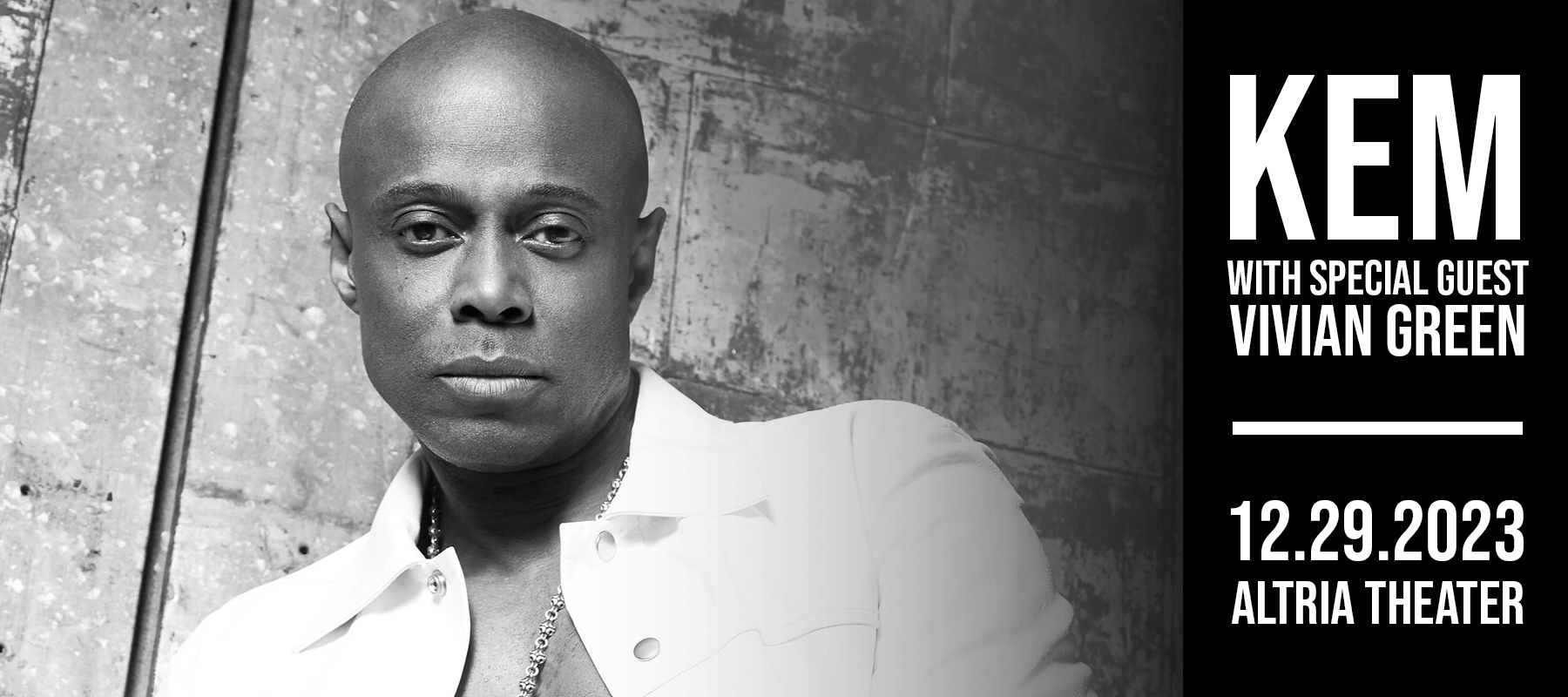 R&B ICON KEM TO PERFORM IN RICHMOND WITH SPECIAL GUEST VIVIAN GREEN
Oct.

2

, 2023
FOR IMMEDIATE RELEASE
R&B ICON KEM TO PERFORM IN RICHMOND WITH SPECIAL GUEST VIVIAN GREEN
Tickets on sale Friday, October 6, at 10AM Local
(October 2, 2023 - RICHMOND VA) Three-time GRAMMY Award-nominated and multiplatinum R&B icon KEM has announced a performance with special guest Vivian Green at Altria Theater on December 29, 2023. Tickets go on sale to the general public on Friday, October 6, at 10:00AM. Tickets can be purchased at altriatheater.com.
For all of his life, KEM has been driven by music and the emotions involved in bringing it to life. That passion stems from the days he spent as a child playing the old piano at his grandfather's church.
Today, the internationally renowned R&B singer/songwriter has to his credit: one Platinum-selling album (KEM: ALBUM II); two Gold-selling albums (KEMISTRY; INTIMACY); three GRAMMY nominations; five #1 hit singles ("Love Calls," "I Can't Stop Loving You," "Why Would You Stay," "It's You" and "Nobody"), along with several sold-out national tours and international shows.
KEM has garnered hundreds of millions of streams and has toured with the likes of RnB titan Kenny "Babyface" Edmonds and host Sherri Shepherd. He's also been nominated for six NAACP Image Awards, two Soul Train Awards, and a BET Centric Award and he heads to Jazz Cafe for three iconic live performances. KEM remains one of the most vibrant and vital voices in 21st-century RnB.

Platinum-selling and critically acclaimed singer, songwriter, actress, and activist Vivian Green joins KEM as a special guest in Richmond, Virginia.
Tickets go on sale to the general public Friday, October 6, at 10:00AM. Tickets will be available online at altriatheater.com, by phone at (800) 514-3849 via Etix, or in-person at the Altria Theater Box Office, located at 6 N. Laurel Street, open Monday-Friday, 10AM-2PM local.
As a courtesy reminder, Altria Theater urges ticket buyers to buy direct from the Altria Theater website or from the sources listed above. All other ticketing sources are through unauthorized sellers. More information on buying direct can be found at altriatheater.com/events/buy-direct.
For more information, visit altriatheater.com.

###
About ASM Richmond
ASM Richmond is the Richmond, Virginia division of ASM Global, the world's leading provider of innovative venue services and live experiences. The company manages three local venues including Altria Theater and Dominion Energy Center on behalf of the Richmond Performing Arts Corporation (RPAC) and Bon Secours Training Center on behalf of the Richmond Economic Development Authority. Previously known as SMG Richmond, the company became ASM Richmond in 2019 following the merger between its parent company, SMG Worldwide, and AEG Facilities. ASM Richmond oversees all facets of venue management including administration and finance, sales and marketing, event production and promotion, and facilities maintenance.
About ASM Global
ASM Global is the world's leading producer of entertainment experiences. It is the global leader in venue and event strategy and management—delivering locally tailored solutions and cutting-edge technologies to achieve maximum results for venue owners. The company's elite venue network spans five continents, with a portfolio of more than 325 of the world's most prestigious arenas, stadiums, convention, and exhibition centers, and performing arts venues Follow us on Facebook, Instagram, LinkedIn and Twitter. asmglobal.com