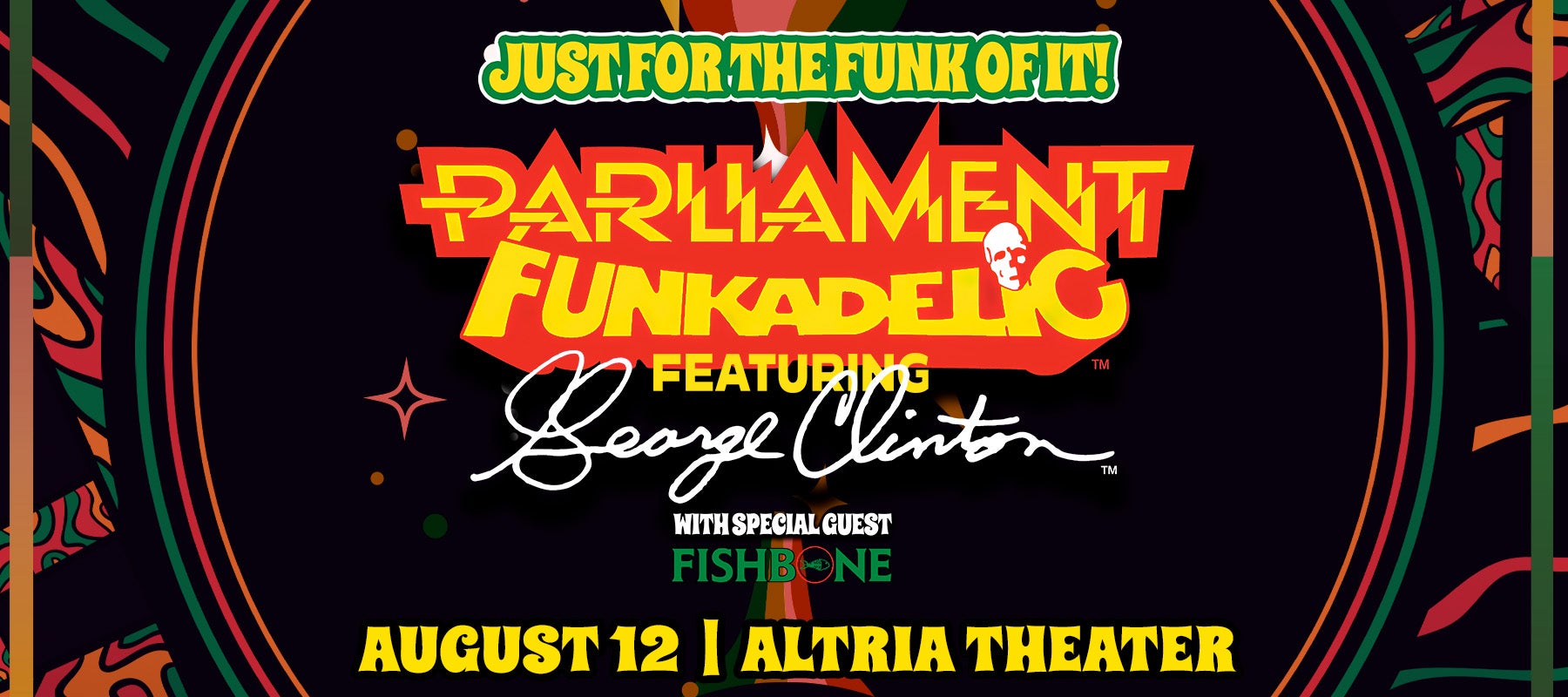 PARLIAMENT FUNKADELIC FEAT. GEORGE CLINTON ANNOUNCE RICHMOND PERFORMANCE
Apr.

3

, 2023
FOR IMMEDIATE RELEASE
PARLIAMENT FUNKADELIC FEAT. GEORGE CLINTON ANNOUNCE RICHMOND PERFORMANCE
TICKETS ON SALE FRIDAY, APRIL 7, AT 10AM LOCAL
(RICHMOND, VA) Just announced! Parliament Funkadelic featuring George Clinton bring the "Just for The Funk Of It" tour to Altria Theater on August 12, 2023. Tickets go on sale to the general public Friday, April 7, at 10:00AM. Tickets can be purchased at altriatheater.com.
George Clinton is an American treasure. As one of the foremost innovators of Funk, Clinton is the mastermind behind the legendary Parliament/Funkadelic, creating a uniquely identifiable and timeless art that has lifted Funk from what was once considered a simple style to an internationally recognized and respected musical genre. His incredible ingenuity has earned George Clinton and Parliament/Funkadelic their rightful place in music history: an induction into the Rock and Roll Hall of Fame and recipients of the Grammy Lifetime Achievement Award.
Clinton started his career with the Parliaments, a barbershop doo-wop ensemble, which scored a major hit with "I Wanna Testify" in 1967. Clinton then developed an act/sound which merged the polish of Motown acts, the rawness of James Brown, the bohemian style of Sly Stone and the pop sensibility of the Beatles – and forever set himself apart from the Motown era. By the early '70s, the group's tight songs evolved into sprawling jams around funky rhythms. They dropped the "s" from the band's name and Parliament was born; a rock group which fused acid-rock guitar, bizarre sound effects, and cosmological rants with danceable beats and booming bass lines.
Rolling Stone and Spin recently identified Parliament/Funkadelic as one of the top bands of all time. Hits like "P-Funk (Wants to get Funked Up)", "Mothership Connection (Star Child)", "Dr. Funkenstein", and "Give Up the Funk (Tear the Roof Off the Sucker)" were dancefloor anthems designed to "put a dip in your hip and a glide in your stride." Releases like "Flashlight", "One Nation Under a Groove", "(Not Just) Knee Deep", "Aqua Boogie," and "Atomic Dog" took the term "dancefloor anthem" to a new level.
Clinton's P-Funk, with its infectious groove and irresistible beats, became a go-to source for countless early rap recordings. As Clinton has said, "Funk is the DNA of hip-hop and rap." Being the most sampled artist, Clinton has become recognized as the godfather of modern urban music. Beats, loops, and samples of P-Funk have appeared on albums by 2Pac, OutKast, Dr. Dre, Busta Rhymes, Missy Elliot, De La Soul, Fishbone, Ice Cube, Public Enemy and Childish Gambino, to name but a few. Clinton has collaborated with Kendrick Lamar on the influential rapper's Grammy-winning album To Pimp a Butterfly.
Through it all, Clinton and Parliament/Funkadelic have maintained a rigorous touring schedule that would test artists 50 years his junior. Considered by many to be one of the original jam bands, Parliament/Funkadelic's 2-to-4 hour performances appeal to and attract many of the same fans that populate concerts by The Dead, Phish, and Dave Matthews. Celebrating his 80th year on planet Earth, Clinton is as busy as ever. In addition to touring, he is working on three recording projects that feature collaborations with a "who's who" of top artists from the last four decades. And he has started a new career as a graphic artist; his paintings were prominently displayed during Art Basel in Miami.
Tickets go on sale to the general public Friday, April 7, at 10:00AM. Tickets will be available online at altriatheater.com, by phone at (800) 514-3849 via Etix, or in-person at the Altria Theater Box Office, located at 6 N. Laurel Street, open Monday-Friday, 10AM-2PM local.
As a courtesy reminder, Altria Theater urges ticket buyers to buy direct from the Altria Theater website or from the sources listed above. All other ticketing sources are through unauthorized sellers. More information on buying direct can be found at altriatheater.com/events/buy-direct.
For more information, visit altriatheater.com.

###
About ASM Richmond
ASM Richmond is the Richmond, Virginia division of ASM Global, the world's leading provider of innovative venue services and live experiences. The company manages three local venues including, Altria Theater and Dominion Energy Center on behalf of the Richmond Performing Arts Commission (RPAC), and Bon Secours Training Center on behalf of the Richmond Economic Development Authority. Previously known as SMG Richmond, the company became ASM Richmond in 2019 as a result of the merger between its parent company, SMG Worldwide, and AEG Facilities. ASM Richmond oversees all facets of venue management including, administration and finance, sales and marketing, event production and promotion, and facilities maintenance.
About ASM Global
ASM Global is the world's leading producer of entertainment experiences. It is the global leader in venue and event strategy and management—delivering locally tailored solutions and cutting-edge technologies to achieve maximum results for venue owners. The company's elite venue network spans five continents, with a portfolio of more than 325 of the world's most prestigious arenas, stadiums, convention, and exhibition centers, and performing arts venues Follow us on Facebook, Instagram, LinkedIn and Twitter. asmglobal.com