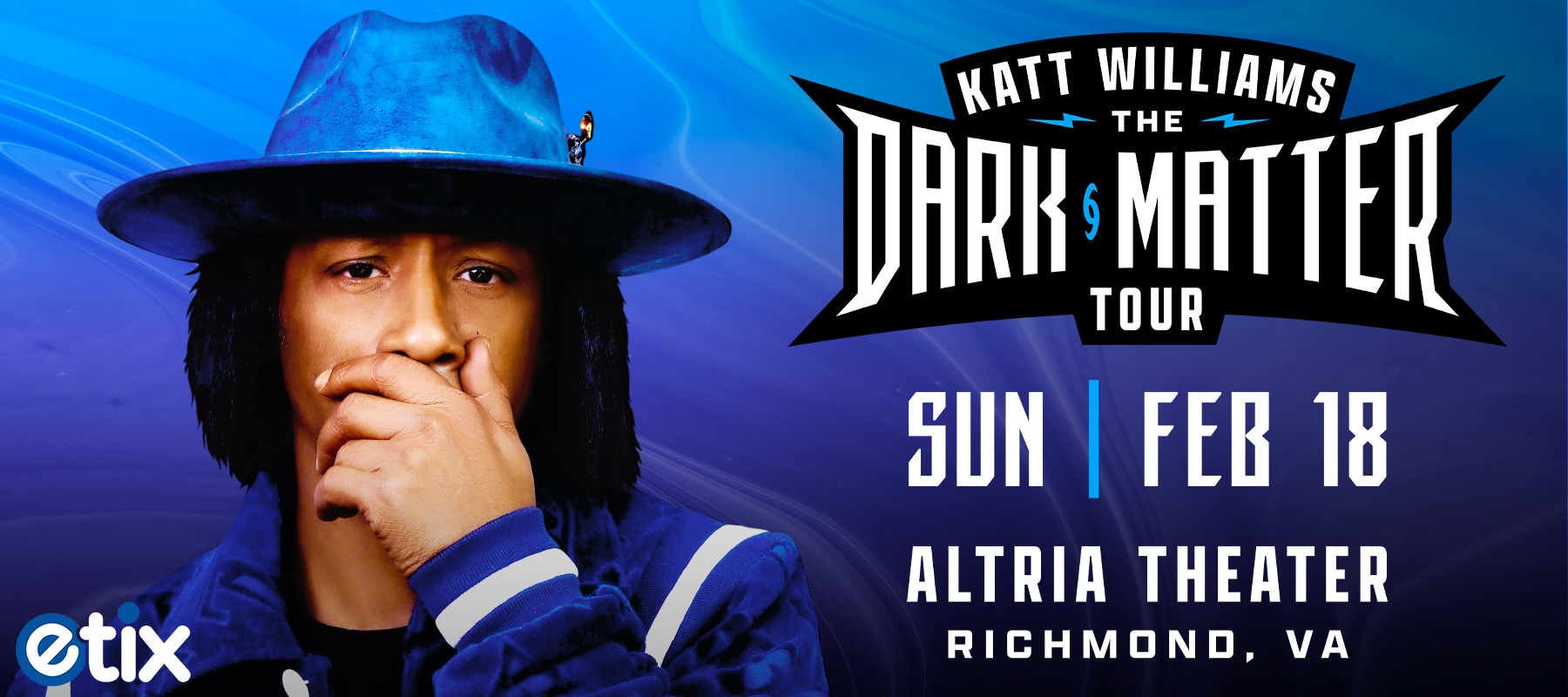 KATT WILLIAMS: THE DARK MATTER TOUR COMING TO RICHMOND ON FEBRUARY 18
Oct.

27

, 2023
FOR IMMEDIATE RELEASE
KATT WILLIAMS: THE DARK MATTER TOUR COMING TO
RICHMOND ON FEBRUARY 18
Tickets On Sale Starting Friday, November 3, at 10AM Local
(October 27, 2023 – Richmond, VA) – Comedy legend and Emmy® Award-winning actor Katt Williams announces THE DARK MATTER TOUR is coming to Richmond. The highly anticipated tour will make a stop at Altria Theater on February 18, 2024, promising a night of unparalleled comedy that breaks through boundaries and challenges the status quo. Tickets will be available starting with Artist and AMEX presales beginning Wednesday, November 1, at 10AM EST. The general on sale begins Friday, November 3, at 10AM EST on altriatheater.com or etix.com.
THE DARK MATTER TOUR DETAILS:
Date: Sunday, Feb. 18, 2024
Time: 7:00PM
Venue: Altria Theater, 6 N Laurel St, Richmond, VA 23220
Ticket Prices: $59, $75, $99, $125, $175, $250 (not including taxes and fees)
Ticket Link: https://www.etix.com/ticket/p/40352795
Pre-Sale Code: DMT
Tickets go on sale to the general public Friday, November 3, at 10:00AM. Tickets will be available online at altriatheater.com, by phone at (800) 514-3849 via Etix, or in-person at the Altria Theater Box Office, located at 6 N. Laurel Street, open Monday-Friday, 10AM-2PM local.
As a courtesy reminder, Altria Theater urges ticket buyers to buy direct from the Altria Theater website or from the sources listed above. All other ticketing sources are through unauthorized sellers. More information on buying direct can be found at altriatheater.com/events/buy-direct.
For more information, visit altriatheater.com.
###
ABOUT KATT WILLIAMS:
With a career spanning over 20 years, Katt Williams has earned a worldwide reputation as one of today's top entertainers, having developed a career seeded with thousands of sold-out arenas, an expansive list of starring roles on the small screen and memorable performances in major box office hits. Since performing his first stand-up show as a teenager, Williams took the comedy world by storm. He quickly developed a unique style of stand-up that combines articulate and sharp dialogue rooted in conversations reflecting the American political landscape. By 1999, he had cultivated a loyal fan base and was performing on some of the most notable comedy stages across the nation.
In 2002, Williams made his onscreen debut as a guest star on "NYPD Blue" and subsequently landed his first feature film role as Money Mike in "Friday After Next." His extensive filmography includes notable roles in "Father Figures," "Norbit," "Scary Movie V," "Epic Movie," "Bastards," "The House Next Door: Meet the Blacks 2," "Cats & Dogs: The Revenge of Kitty Galore," "The Boondocks," "Wild 'n Out," and a guest role in the critically acclaimed series "Atlanta," which earned him a Primetime Emmy® Award for Outstanding Guest Actor in a Comedy Series. Celebrated for his brilliance and ingenuity on stage, Williams is also known for his critically acclaimed stand-up specials, including "The Pimp Chronicles," "It's Pimpin' Pimpin'," "Katt Williams: Pimpadelic," "American Hustle," "Priceless: Afterlife," "Kattpacalypse," "Katt Williams: Great America," and most recently, "Katt Williams: World War III," on Netflix.

FOLLOW KATT WILLIAMS:
Facebook @KattWilliams | Instagram @kattwilliams
ABOUT NORTH AMERICAN ENTERTAINMENT GROUP:
North American Entertainment Group, Inc. is one of the largest independent promoters of entertainment tours and live events in the United States. With more than 25 years in the industry and an extensive history in venue management, NAEG has consistently delivered the hottest concerts, comedy shows and theatrical entertainment to venues in more than 100 markets. Beyond the stage, NAEG has produced television specials, concert DVD's, online content and branded merchandise. A company distinguished by creativity in tour packaging and marketing strategy, NAEG's success resounds in the memories of those who have attended their events. North American Entertainment Group is an umbrella company of several popular, hit subdivisions. With experience in all types of entertainment (comedy, hip hop, jazz and more), North American Entertainment Group is always searching the horizon for pinnacles of new entertainment to deliver to cities around the country. For more information, visit northamericanentertainment.com
ABOUT ASM RICHMOND:
ASM Richmond is the Richmond, Virginia division of ASM Global, the world's leading provider of innovative venue services and live experiences. The company manages three local venues including Altria Theater and Dominion Energy Center on behalf of the Richmond Performing Arts Corporation (RPAC) and Bon Secours Training Center on behalf of the Richmond Economic Development Authority. Previously known as SMG Richmond, the company became ASM Richmond in 2019 following the merger between its parent company, SMG Worldwide, and AEG Facilities. ASM Richmond oversees all facets of venue management including administration and finance, sales and marketing, event production and promotion, and facilities maintenance.