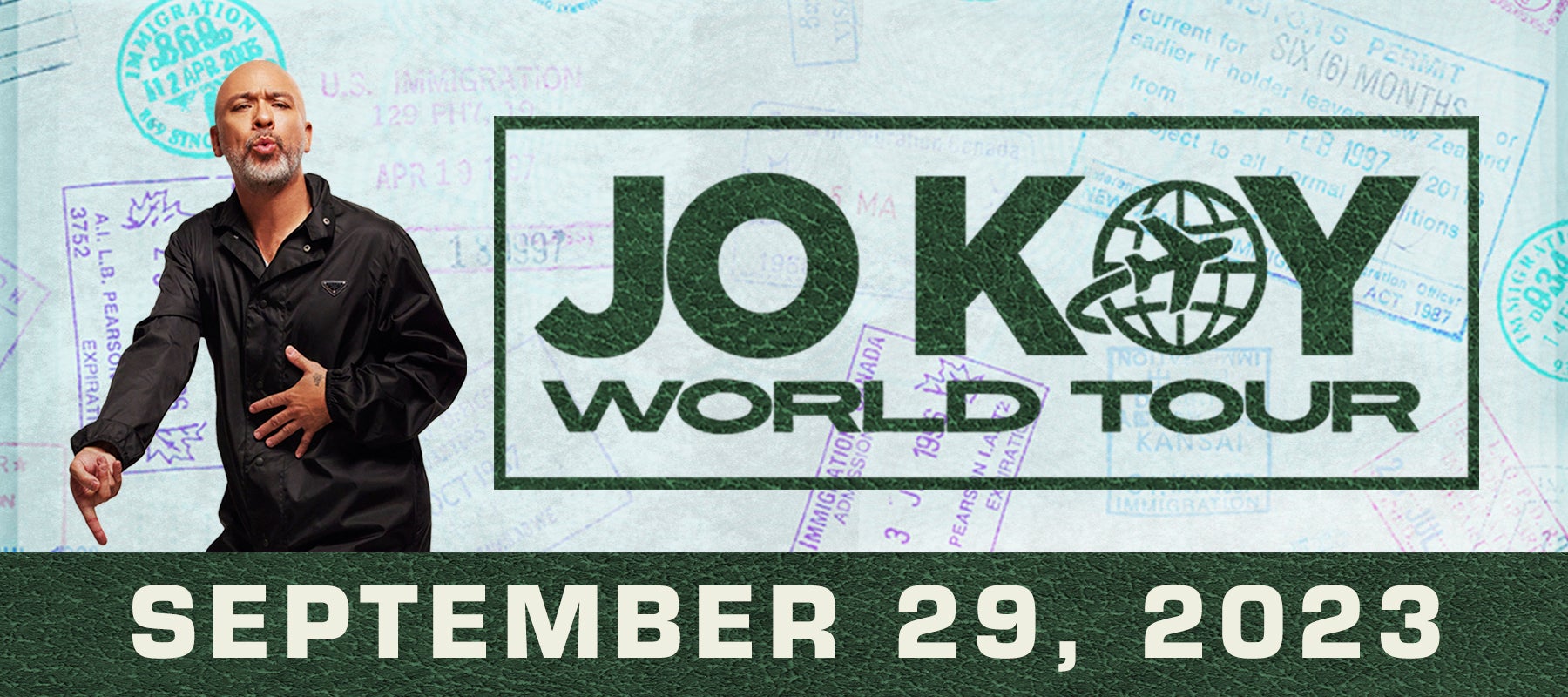 COMEDIAN JO KOY ANNOUNCES HIS 2023 JO KOY WORLD TOUR
Apr.

17

, 2023
FOR IMMEDIATE RELEASE
COMEDIAN JO KOY ANNOUNCES HIS 2023 JO KOY WORLD TOUR
TICKETS ON SALE THURSDAY, APRIL 20, AT 12PM LOCAL
(RICHMOND, VA) Coming off of the highly anticipated Universal Picture film, Easter Sunday and his recent Netflix special, Jo Koy: Live From The Los Angeles Forum, Comedian Jo Koy announces his 2023 Jo Koy World Tour coming to Altria Theater on September 9, 2023. Pre-sale will begin Wednesday, April 19, at 12:00PM and public tickets go on-sale Thursday, April 20, at 10:00AM. Tickets can be purchased at altriatheater.com.
Koy started 2022 with a bang, selling-out the Climate Pledge Arena (over 14,000 tickets) in his hometown of Seattle. Today, he continues breaking sales records at some of the most prestigious venues around the world including Mall of Asia Arena (Manila, PH), The Forum (Los Angeles), Coca-Cola Arena (Dubai), ICC Theatre (Sydney, AU), and Madison Square Garden (New York City) to name a few. In 2017, Koy broke a record for the most tickets sold by a single artist at 23,000 tickets and 11 sold-out shows at The Neal S. Blaisdell Concert Hall in Honolulu. In response, the mayor's office in Honolulu proclaimed November 24th as "Jo Koy Day." The Jo Koy World Tour will feature ALL NEW material.
As one of today's premiere stand-up comedians, Jo Koy has come a long way from his modest beginnings performing in a Las Vegas coffee house. Jo's uniquely relatable comedy pulls inspiration from his colorful family that has reached all kinds of people and has translated into sold-out arenas around the world.
His highly anticipated 4th Netflix stand-up special, Live From The Los Angeles Forum premiered globally on September 13th. The special is a follow up to his 2019 Netflix special, Comin' In Hot. Koy has already had four highly rated and successful stand-up specials on Comedy Central and Netflix. In June 2020, the comedian released his first variety special, Jo Koy: In His Elements on Netflix in which Koy brings the laughs and beats to Manila, spotlighting local culture in a one-of-a-kind show featuring Filipino-American comedians, DJs and B-boys.
Koy recently starred in the Universal Picture film Easter Sunday, set around a family gathering to celebrate Easter Sunday, the comedy is based on Jo Koy's life experiences and stand-up comedy. The film is currently available on-demand, Blu-ray, & DVD. For more info on his comedy, book and tour dates, please visit: Jokoy.com.
Tickets go on sale to the general public Friday, November 18, at 10:00AM. Tickets will be available online at altriatheater.com, by phone at (800) 514-3849 via Etix, or in-person at the Altria Theater Box Office, located at 6 N. Laurel Street, open Monday-Friday, 10AM-2PM local.
As a courtesy reminder, Altria Theater urges ticket buyers to buy direct from the Altria Theater website or from the sources listed above. All other ticketing sources are through unauthorized sellers. More information on buying direct can be found at altriatheater.com/events/buy-direct.
For more information, visit altriatheater.com.

###
About ASM Richmond
ASM Richmond is the Richmond, Virginia division of ASM Global, the world's leading provider of innovative venue services and live experiences. The company manages three local venues including, Altria Theater and Dominion Energy Center on behalf of the Richmond Performing Arts Commission (RPAC), and Bon Secours Training Center on behalf of the Richmond Economic Development Authority. Previously known as SMG Richmond, the company became ASM Richmond in 2019 as a result of the merger between its parent company, SMG Worldwide, and AEG Facilities. ASM Richmond oversees all facets of venue management including, administration and finance, sales and marketing, event production and promotion, and facilities maintenance.
About ASM Global
ASM Global is the world's leading producer of entertainment experiences. It is the global leader in venue and event strategy and management—delivering locally tailored solutions and cutting-edge technologies to achieve maximum results for venue owners. The company's elite venue network spans five continents, with a portfolio of more than 325 of the world's most prestigious arenas, stadiums, convention, and exhibition centers, and performing arts venues Follow us on Facebook, Instagram, LinkedIn and Twitter. asmglobal.com