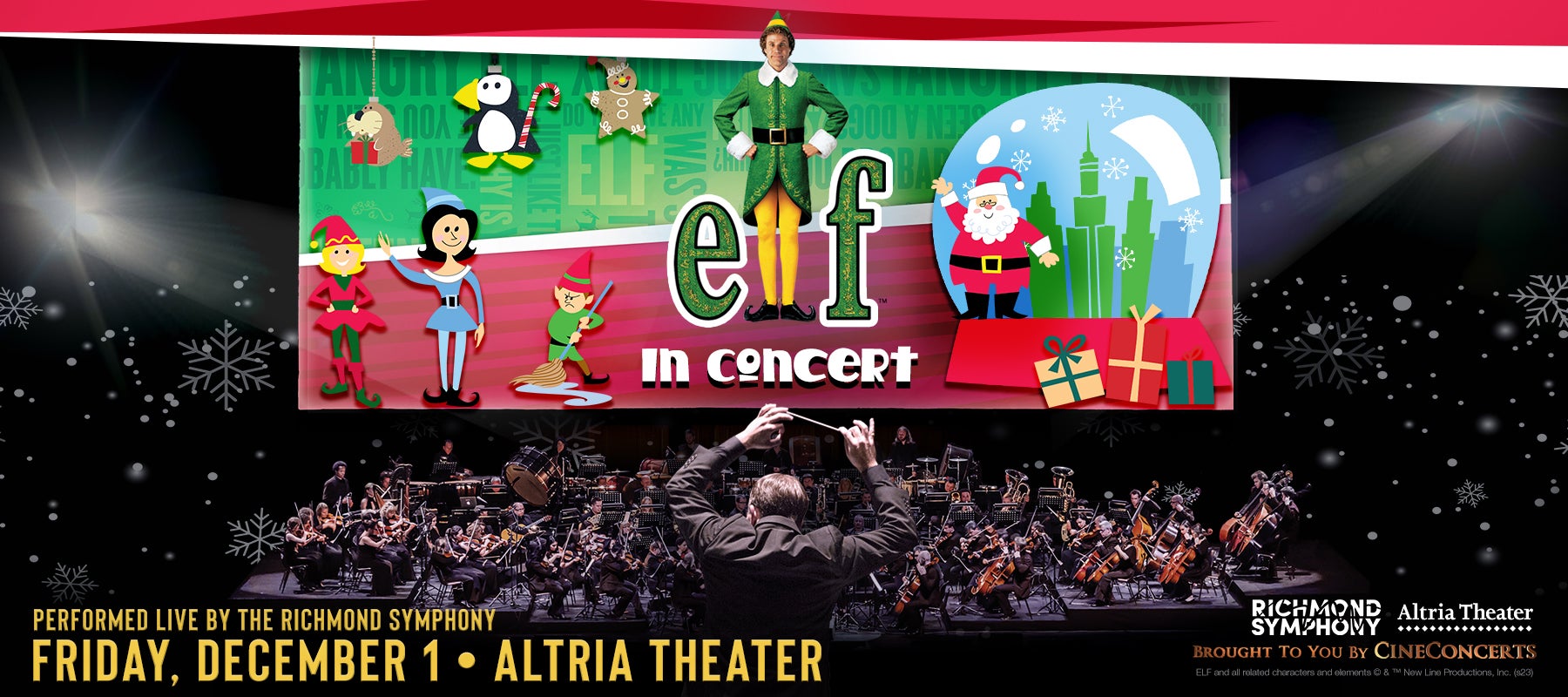 ELF BRINGS HOLIDAY MAGIC TO RICHMOND WITH A SPARKLING LIVE FILM CONCERT CELEBRATING THE 20th ANNIVERSARY
July

31

, 2023
ELF BRINGS HOLIDAY MAGIC TO RICHMOND WITH A SPARKLING LIVE FILM CONCERT CELEBRATING THE 20th ANNIVERSARY
BRINGING THE MUSIC TO LIFE: RICHMOND SYMPHONY SET TO PERFORM COMPOSER JOHN DEBNEY'S ELF SCORE LIVE TO PICTURE ON DECEMBER 1, CREATING AN UNFORGETTABLE HOLIDAY EXPERIENCE AT ALTRIA THEATER
Tickets & Info · Trailer · Film Stills
(JULY 31 - RICHMOND, VA) – The spirit of the holidays is coming to Richmond in a big way! This holiday season, CineConcerts and Warner Bros. Discovery Global Themed Entertainment, in partnership with Innovation Arts and Entertainment, are bringing Elf in Concert to Altria Theater on December 1, 2023, at 7PM. This event is part of a festive tour across 31 cities worldwide, featuring the Richmond Symphony performing John Debney's heartwarming score live to picture, projected onto a 40-foot movie screen. Tickets go on sale to the general public Friday, August 4, at 10:00AM local. Tickets can be purchased at altriatheater.com.
Elf in Concert embarks on a magical journey in 31 cities starting from Nov. 17 and culminates in a grand finale on Dec 29. Performance will take place at iconic venues nationwide, with Richmond being a significant part of this holiday cheer tour. For a complete performance schedule and location details, visit the official website.
Elf is consistently ranked among the top holiday movies. Debney, who has worked on some of the most successful films of all time including The Passion of the Christ, Iron Man 2, The Jungle Book, and Hocus Pocus, expresses his enthusiasm: "I'm so thrilled to be working with Warner Bros. Discovery Global Themed Entertainment and CineConcerts on the upcoming Elf in Concert. Writing the score was a true highlight of my career. Seeing the joy that the music and film brings to audiences each year is truly wonderful. Elf has really become a modern classic and bringing this into concert halls worldwide is an absolute honor. I very much look forward to presenting this unforgettable concert experience to live audiences worldwide!"
Elf tells the heartwarming story of Buddy, a human raised among Santa's elves. As an adult, he embarks on a journey to New York in search of his real father, bringing with him an infectious holiday spirit. Get ready, Richmond, to welcome the magic of Buddy the Elf at Altria Theater on December 1, 2023, at 7PM!
Tickets go on sale to the general public Friday, August 4, 2023, at 10:00AM. Tickets will be available online at altriatheater.com, by phone at (800) 514-3849 via Etix, or in-person at the Altria Theater Box Office, located at 6 N. Laurel Street, open Monday-Friday, 10AM-2PM local.
As a courtesy reminder, Altria Theater urges ticket buyers to buy direct from the Altria Theater website or from the sources listed above. All other ticketing sources are through unauthorized sellers. More information on buying direct can be found at altriatheater.com/events/buy-direct.
For more information, visit altriatheater.com.
Facebook: facebook.com/ElfinConcert
Twitter: @CineConcertsLLC
Instagram: @CineConcerts
Hashtag: #ElfInConcert
###
About CineConcerts - Twitter | Facebook | Instagram
CineConcerts is one of the leading producers of live and digital music experiences performed with visual media, and continues to redefine entertainment. Founded by Producer/Conductor Justin Freer and Producer/Writer Brady Beaubien, CineConcerts will engage over 4.8 million people worldwide in concert presentations in over 3,000 performances in 48 countries through 2025, and recently launched CineConcerts +PLUS - a global digital network and app suite with hundreds of exclusive podcast episodes and produced content. CineConcerts continues to work with some of the most prestigious orchestras and venues in the world including the Chicago Symphony Orchestra, Cleveland Orchestra, London Philharmonic, Los Angeles Philharmonic, New York Philharmonic, Philadelphia Orchestra, Philharmonia Orchestra, and more. Recent and current live and digital concert experiences include Elf in Concert, The Pinball Concert (Digital), The Polar Express in Concert, Rudy in Concert, The Passion of the Christ in Concert, The Da Vinci Code in Concert, The Harry Potter Film Concert Series, Gladiator Live, The Godfather Live, It's a Wonderful Life in Concert, DreamWorks Animation In Concert, Star Trek: The Ultimate Voyage 50th Anniversary Concert Tour, Breakfast at Tiffany's in Concert, and A Christmas Dream Live.
About Warner Bros. Discovery Global Themed Entertainment (WBDGTE)
Warner Bros. Discovery Global Themed Entertainment (WBDGTE), part of Warner Bros. Discovery Global Brands, Franchises, and Experiences, is a worldwide leader in the creation, development, and licensing of location-based entertainment, live events, exhibits, and theme park experiences based on the biggest franchises, stories and characters from Warner Bros.' film, television, animation, and games studios, HBO, Discovery, DC, Cartoon Network and more. WBDGTE is home to the groundbreaking locations of The Wizarding World of Harry Potter at Universal theme parks around the world, Warner Bros. World Abu Dhabi, The WB Abu Dhabi, The FRIENDS Experience, The Game of Thrones Studio Tour and countless other experiences inspired by the Wizarding World, DC, Looney Tunes, Scooby-Doo, Game of Thrones, FRIENDS and more. With best-in-class partners, WBDGTE allows fans around the world to physically immerse themselves inside their favorite brands and franchises.
About Innovation Arts & Entertainment (iAE)
Based in Chicago, iAE is a team of 30 full time employees that produce over 400 shows annually in 125 cities in all 50 states and 8 provinces in Canada. We also are the producers of the Martha's Vineyard Concert Series and Beach Road Weekend Music Festival. iAE offers audiences across North America the most exciting, critically successful live entertainment options. iAE sets the bar for quality, popular events by consistently delivering ticket buyers to our theater and arena partners everywhere. Our areas of expertise include booking, event management, marketing, and promotion of national touring acts. We work with such acts as David Sedaris, The Harry Potter Film™ Concert Series, Elf in Concert, Wild Kratts Live, The Book of Mormon, Cats, Les Misérables and much more! iAE has also created the Beach Road Weekend Music Festival, the first-ever multi-day music festival on Martha's Vineyard. The festival has quickly become a beloved summer tradition, attracting thousands of music fans from all over the country. Lineups have included artists such as Beck, Wilco, Avett Brothers, Mumford & Sons, Leon Bridges, Bon Iver Phil Lesh & Friend, John Fogerty and much more. Our team is made up of experienced professionals who are dedicated to creating unforgettable experiences for our audiences. We are committed to working closely with our clients to ensure that their events are a success.
About John Debney
John Debney's career seemed destined for Hollywood, the son of Disney Studios producer Louis Debney, John grew up in nearby Glendale, California where he got early inspiration for film and music growing up on the Disney Studio lot. The child of two musicians, John showed an early aptitude for music and began guitar lessons at age six, later playing in rock bands throughout college. Debney earned his B.A. in Music Composition from California Institute of the Arts in 1979, and after four years immersing himself in the business at Disney Studios, Debney made a professional entry into the industry, composing for TV, working with Steven Spielberg and Mike Post on shows such as Star Trek: The Next Generation, Tiny Tunes, and Sea Quest DSV. Debney continued his hands-on training, working with Hanna-Barbera composer Hoyt Curtin, and went on to score major television projects such as which he won an Emmy for Best Main Title.
Debney's first big film break came in 1997 with an offer to work on Liar Liar with director Tom Shadyac. With the success of this blockbuster comedy under his belt, Debney went on to work on a variety of different major films including Elf, Iron Man 2, Spy Kids (1 & 2), and I Know What You Did Last Summer. Debney and Shadyac continued to collaborate, going on to do Bruce Almighty in 2003 and the spinoff Evan Almighty together. In 2005, Debney formed a successful partnership with director Robert Rodriguez, creating scores for his movies Sin City and Machete.
Although Debney was widely known within the industry as a versatile and talented composer, the world wouldn't discover him until he composed the landmark score for Mel Gibson's The Passion of the Christ. Enticed by the idea of working on a project that held deep, spiritual meaning for him, Debney's score, which blended symphonic orchestra, a wide range of world instruments, and the beauty of the human voice, connected on an emotional level with viewers and listeners, and rose to #1 on Billboard's charts for Soundtrack and Christian Albums, and #19 on the Billboard Top 200. The record was certified gold by the RIAA and won the Dove award for Best Instrumental Album, as well as garnering Debney an Oscar nomination.
Shortly after the movie release, Debney premiered "The Passion of the Christ Symphony" in Rome, Italy, a highly successful performance featuring an 83-person choir and a 96-piece orchestra, plus solo musicians and guest vocalists from both the film and the classical worlds, which received a 15-minute standing ovation from the audience. In the tradition of classical composers, John Debney enjoys conducting his own work and has conducted some of the world's greatest orchestras. "A big part of the joy in what I do is that I consider it an honor to stand in front of live musicians and have the opportunity to hear my music played by these talented people."
Debney's most commercially successful work to date is Disney's live-action adaptation of The Jungle Book, directed by Jon Favreau, released in 2016. Debney credits the success of the movie to the fact that both the film and the score, "Embraced the history" of the original. Long-time collaborator, Jon Favreau and John Debney have worked on a variety of films together including Elf, Zathura, Iron Man 2, and The Jungle Book. Among John Debney's other most recent works are scores for Draft Day, Stoneheart Asylum and HISTORY's Emmy-nominated Hatfields & McCoys as well as the HISTORY's most recent mini-series Houdini, and A&E mini-series Bonnie & Clyde.
Considered one of the most prolific and successful composers in Hollywood, Debney has won 3 Emmy's and been nominated for 7, he is also an Academy Award nominee, and the youngest recipient of ASCAP's prestigious Henry Mancini Lifetime Achievement Award.
"If I'm doing my job well," says Debney, "I need to feel it. I really try to make sure that whatever I'm doing— even if it's a comedy—that I'm feeling it and feeling either humor or the pathos or the dramatic impact of what I'm seeing. That's the way I approach it."