Comedy Legends Steve Martin & Martin Short Return To Richmond's Altria Theater With New Tour, "The Funniest Show In Town At The Moment"
Mar.

2

, 2020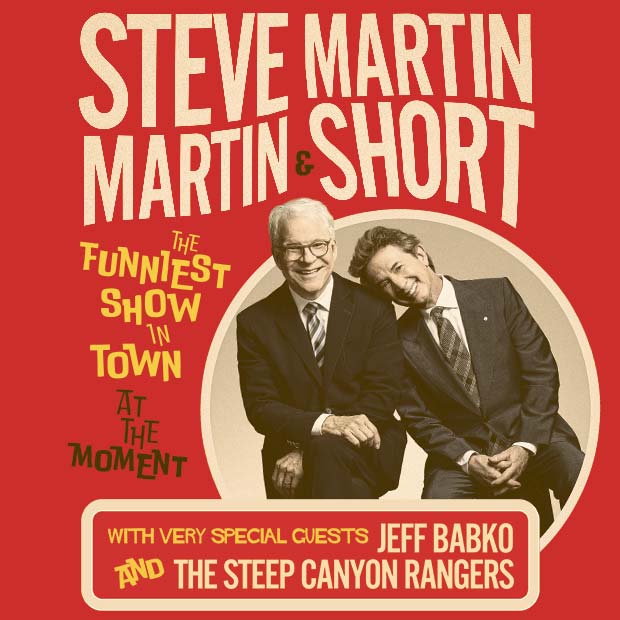 Richmond, Virginia (March 2, 2020) – The Altria Theater is proud to welcome longtime pals and showbiz icons Steve Martin and Martin Short back to Richmond, three years after their last appearance here. The duo will perform a live comedy set with music by Grammy Award-winning bluegrass band, The Steep Canyon Rangers, and renowned jazz pianist and Jimmy Kimmel Live band member, Jeff Babko, on Saturday, June 20, 2020 at 7:30PM.
Tickets go on sale Friday, March 6 at 10:00AM at the Altria Theater Box Office, online at AltriaTheater.com or Etix.com, and by phone at 800-512-ETIX (3849). Tickets start at $32. Additional fees apply.
Steve Martin and Martin Short's "The Funniest Show in Town at the Moment" is a show that redefines the form in unexpected and profound ways, from two of the funniest, most influential and acclaimed talents of the past century.
Their humor is often subversive, but it is always a joyous self-deprecating romp from two comedy masters driven to make each other laugh as much as the audience. The jokes come at you at a rapid-fire pace with little set-up and big punch lines as they mock Hollywood and the fickle nature of celebrity, but the comedy truly soars when they lovingly (and relentlessly) roast each other.
Martin and Short's chemistry and timing on stage reflects a friendship forged over three decades which developed when they met for the first time on the set of the 1986 film "Three Amigos." These two titans of comedy have been touring together since 2015, when they launched their first live show entitled "A Very Stupid Conversation."
The Funniest Show in Town at the Moment follows Steve Martin and Martin Short's celebrated sold-out tour An Evening You Will Forget for the Rest of Your Life. The show was filmed for a Netflix special that earned rave reviews and garnered four Emmy® nominations. Fueled by comedic precision and anchored in a lifelong friendship, Rolling Stone called the special "wryly hip but unexpectedly touching," with the New York Times describing it "gleeful and satisfying."
###
About Altria Theater
Originally opening its doors as a mosque in 1927, and completing a major renovation in 2014, Altria Theater was designed in Moorish Revival architectural style and is one of the best known and most striking buildings in Richmond, Virginia. It is located just west of the city's downtown in the heart of the Virginia Commonwealth University campus, directly across from historic Monroe Park, and is the largest theater between New York and Atlanta. The 200,000 square foot theater has a seating capacity of 3,600 and hosts an enormously successful Broadway in Richmond series, the nationally acclaimed Richmond Forum, as well as countless concerts, kids shows, and comedians. In addition to the theater, the building boasts a beautiful Egyptian-styled ballroom and an abundance of functional space for corporate events, fundraisers, weddings, and private parties.