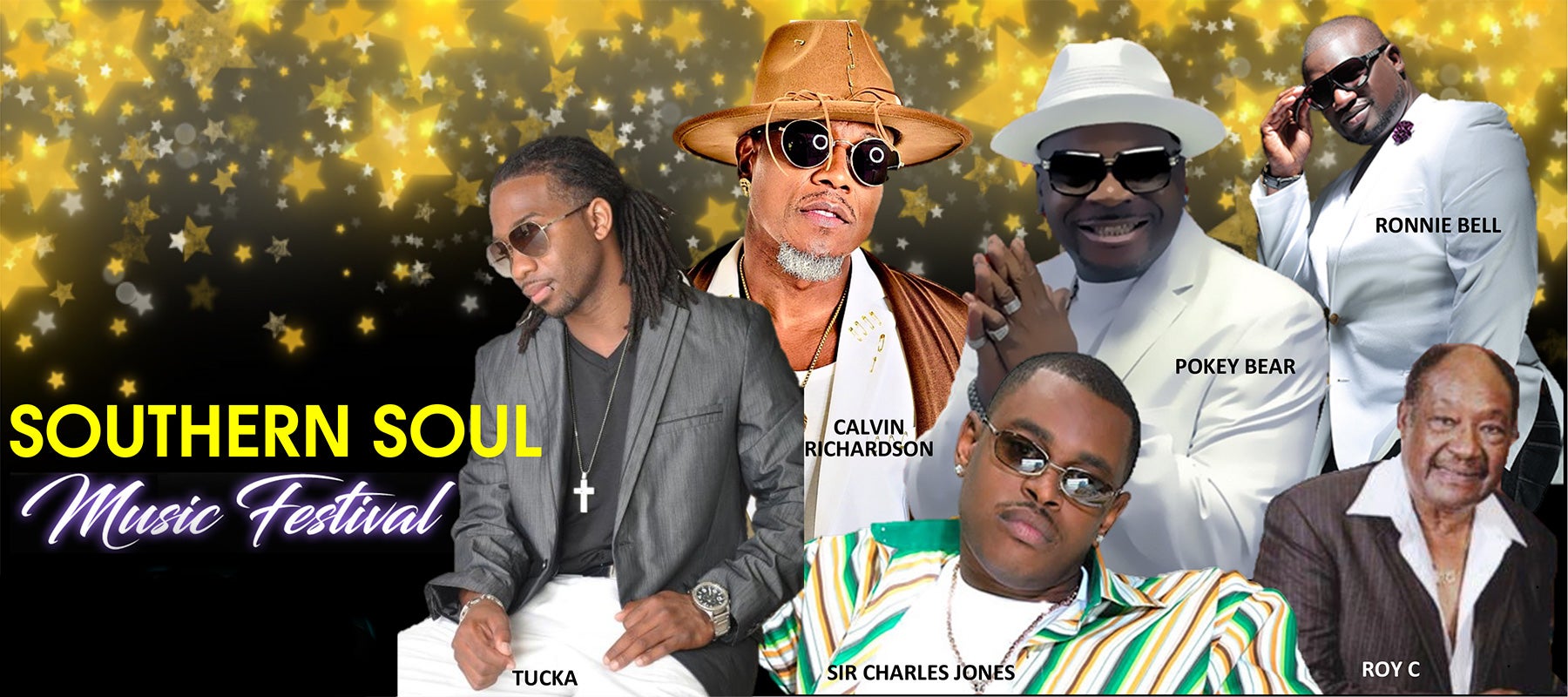 RESCHEDULED: Southern Soul Music Festival
RESCHEDULED: Southern Soul Music Festival
The Altria Theater is proud to welcome the Southern Soul Music Festival featuring Tucka, Pokey Bear, Calvin Richardson, Roy C, Sir Charles Jones and Ronnie Bell to Richmond for the first time. A combination of blues, country, early rock and roll, and with a strong gospel influence, Southern Soul was popular in the 1960s and 1970s but has enjoyed a resurgence that has seen it return to prominence in recent years.
*No Refunds or Exchanges *Artist are subject to change
Tucka
Over the past few years, a brand new voice has risen by the name of TUCKA. Whether it was his own R&B Swing Hits or featuring on other artist remixes. TUCKA has been winning fans with his signature sound. Influenced by R&B and Soul Greats such as Otis Redding, R. Kelly, Sam Cooke, Jackie Wilson and more, but raised on the sounds from his southwest Louisiana roots. TUCKA has come up with his own sound which combines the best of both.
Calvin Richardson
You know when the iconic Soul man Charlie Wilson calls you "one of the most talented artists in the business" that you are truly special. Affectionately dubbed "The Soul Prince," Multi-Grammy Award nominated singer/songwriter Calvin Richardson has been delighting fans with his straight-shooting no holds barred southern Soul and driving women mad for close to two decades. USA Today declares Richardson is "influenced by vintage R&B and his gritty vocals set him apart from his smoother contemporaries…fresh vibes from a singer who respects and values his roots."
Sir Charles Jones
Sir Charles Jones is an artist whose part-throwback, part-modern style of R&B is based on traditional Southern soul and blues. The vocalist, songwriter, producer, and multi-instrumentalist calls himself the Undisputed King of Southern Soul. Born in Ohio, raised in Alabama, and later based in Georgia he began his recording career in 2000 with a self-titled album. Sir Charles Jones has been a busy touring musician with headlining gigs and appearances at soul and blues festivals.
Pokey Bear
Southern bluesman Pokey Bear injects a larger-than-life swagger into his R&B-infused bayou soul. The Baton Rouge party-starter was influenced by James Brown a soul man at heart, he released his solo effort Josephine Son Pokey in 2014. The album included sensual dance tracks like "The Gingerbread Man" and "Mr. Hit It and Quit It" as well as his de facto theme song, "They Call Me Pokey."
The Legendary Roy C
Roy C is an American southern soul singer, songwriter and record executive, best known for his 1965 hit, "Shotgun Wedding". Another song, "Impeach the President", which he recorded and produced with a high school group, the Honey Drippers, has had one of the most sampled drum tracks in hip hop music.
Ronnie Bell
Ronnie Bell is a church-reared independent R&B singer, his material has alternated between contemporary commercial sounds and slower numbers more in line with deeply Southern soul-blues. Raised in Walker, Louisiana, roughly 20 miles east of Baton Rouge, Bell started singing in choirs as a youngster. A self-titled three-song EP was released in 2012 as Bell's recorded solo debut. Several singles such as "Cotton Candy" followed during the next few years, and led to a longer EP, BBMyself, in 2015. "I'll Pay the Shipping Cost" arrived in 2016.
Ticket Information

Ticket prices my vary with additional fees.