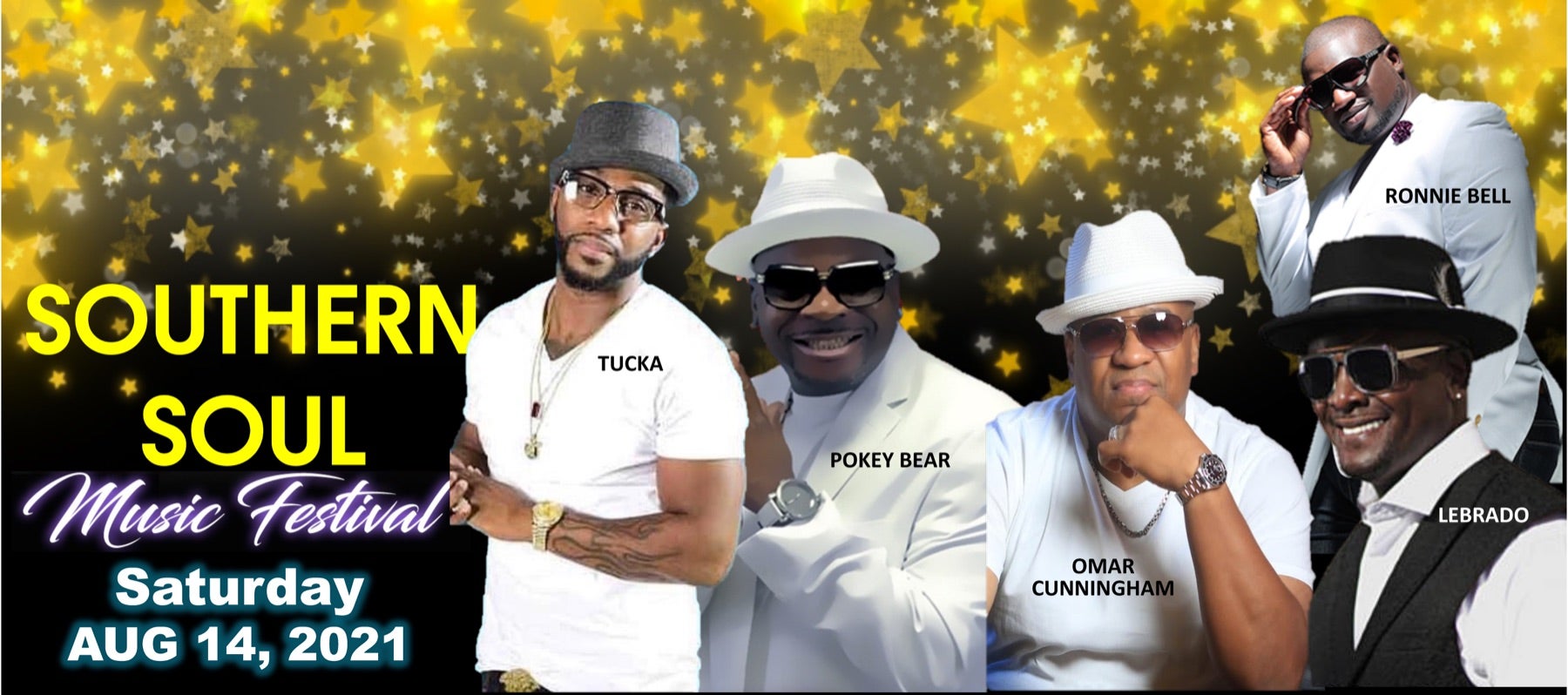 Southern Soul Music Festival
Southern Soul Music Festival
Richmond's First Southern Soul Music Festival: Featuring Tucka, Pokey Bear, Ronnie Bell, Lebrado and Omar Cunningham *No Refunds or Exchanges *Artist are subject to change
Tucka - Over the past few years, a brand new voice has risen by the name of TUCKA, he's been winning fans with his signature sound. Influenced by R&B and Soul Greats he rose-up on the sounds from his southwest Louisiana roots. TUCKA has come up with his own sound, which combines the best of both.
Pokey Bear - Southern bluesman Pokey Bear injects a larger-than-life swagger into his R&B-infused bayou soul. The Baton Rouge party-starter released his solo effort Josephine Son Pokey in 2014; the album included his de facto theme song, "They Call Me Pokey."
Ronnie Bell - Ronnie Bell is a church-reared independent R&B singer, his material has alternated between contemporary commercial sounds and slower numbers more in line with deeply Southern soul-blues. "I'll Pay the Shipping Cost" arrived in 2016.
Lebrado - Lebrado is a native of the Charlotte suburb of Wingate, North Carolina. Lebrado made his musical debut as a back-up singer on the single "Suicide" by Jodeci from their 2000 album, X, K-Ci & JoJo), are Lebrado's older brothers. Fire, Lebrado's second CD, was released in 2009 on the indie label Makes Cents/Majama Entertainment. K-Ci joined Lebrado on the title tune, you can be sure you'll be hearing more from this talented singer.
Omar Cunningham – Born and raised in Gadsden, Alabama, Omar Cunningham developed a love for music early in his childhood. His first opportunity to sing came in 1976 at the age of 7 in church. He has worked to bring a fresh sound to the blues world, a sound that blends soul and gospel with honest situations and playful lyrics.
Ticket Information

Ticket prices my vary with additional fees.