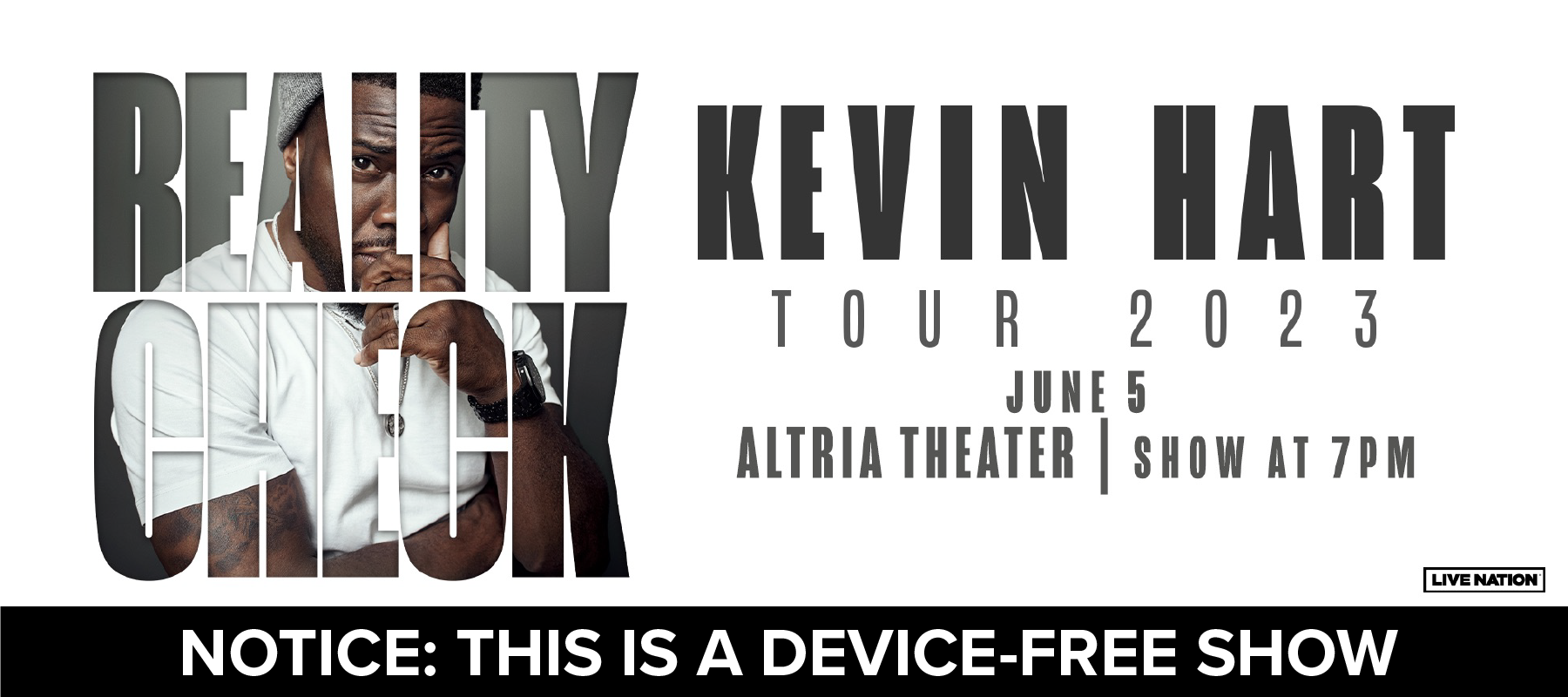 Kevin Hart: Reality Check
Kevin Hart: Reality Check
This event will be a phone-free experience. Use of phones will not be permitted in the performance space.
Emmy & Grammy nominated Kevin Hart was born and raised in Philadelphia, Pennsylvania where he launched his career as a comedian during an amateur night at a local comedy club. Over the years Hart has become Hollywood's box office powerhouse, opening eleven films at number one at the box office and grossing more than in $4.23 billion global revenue. Hart has also become a successful Entrepreneur; he is Chairman of Hartbeat; a global, multi-platform media company creating entertainment at the intersection of comedy and culture with a mission to keep the world laughing together. The next generation media company unites Hartbeat Productions' best-in-class TV & film production capabilities with Laugh Out Loud's expansive distribution network, along with its marketing, sales, experiential, branded content, digital and social capabilities. Hart is also the Founder of HartBeat Ventures. Together, these companies play an integral role part in building Hart's eco-system for extraordinary growth and creativity. Hart continues to develop, star, and produce feature films, television, and podcasts via Hartbeat for his various partners which include Netflix, Peacock, Sirius XM and Audible. Hart is currently touring nationally with his eighth hour of stand-up material; the tour is titled "The Reality Check" Tour. The tour was recently named the #1 Comedy Tour of 2022 by Billboard and Hart was awarded the People's Choice Award for Comedy Act of 2022 on behalf of the new hour. In 2020 Hart released his seventh hour long stand-up special, "Zero Fu**ks Given," which quickly became Netflix's biggest stand-up special of 2020 and earned him a Grammy nomination for "Best Comedy Album". Hart also earned Emmy nominations for "Die Hart," for "Outstanding Actor in a Short Form Comedy or Drama Series" along with an Emmy nomination for his Docu-series, "Don't F**k This Up". Kevin is a New York Times Best Selling author twice over and his first Audible original, "The Decision," was nominated for an Audie award for "Best Original Audiobook in 2021." Kevin is a founding partner in two companies: the premium tequila brand Gran Coramino, and plant based quick serve restaurant Hart House. Kevin's brand partnerships include Sam's Club, Audemars Piguet, Fabletics Men, Chase J.P Morgan, Draft Kings, Hydrow, NutraBolt, Brüush, Tommy John and Therabody.
*Artist owns all rights in the content and materials delivered during his performance (the "Materials"). Any use of the Materials without the express prior written consent of Artist is strictly prohibited and is punishable to the full extent of the law.
Device-Free Experience

This event will be a phone-free experience. Use of phones will not be permitted in the performance space.

Upon arrival at the venue, phones will be secured in individual Yondr pouches that will be opened at the end of the event. Guests maintain possession of their devices at all times, and can access them throughout the event only in designated Phone Use Areas within the venue. All devices will be re-secured in Yondr pouches before returning to the performance space.

All pouches and equipment are routinely sanitized. The Yondr staff is trained and required to follow safety guidelines and hygiene protocols to practice social distancing, minimal contact and wear required personal protective equipment.

Anyone seen using a device during the performance will be escorted out of the venue by security. We appreciate your cooperation in creating a phone-free experience.

---

Frequently Asked Questions:

Q: Do I maintain possession of my phone at all times?

A: Yes.

Q: Will the case affect my phone in any way?

A: No.

Q: My ticket is on my phone. What do I do?

A: Printed tickets are preferred for entry, but Yondr staff will be standing by to unlock your phone so you can access your mobile ticket in order to enter the venue.

Q: I have a babysitter at home OR I am on-call for work — Where can I check my phone?

A: Set your phone to vibrate as you enter the venue. You'll be able to feel your phone vibrate through the Yondr case when you receive calls or texts. You may use your phone throughout the night at designated Phone Use Areas in the lobby of the venue.

Q: What is a Phone Use Area?

A: Guests are able to use their phones at designated Phone Use Areas in the venue. All phones must be secured in a Yondr case before guests re-enter the performance space.

Q: How do I unlock my phone after the show?

A: Yondr staff will be stationed at all exits to unlock your phone at the end of the show.

Q: Does it take long to unlock the cases and leave the venue?

A: No. Yondr staff are located at each exit to unlock cases. We find that leaving is consistently faster at a phone-free show.

Q: I didn't know about the phone policy. What if I don't want to do this?

A: This is the show policy, and as a result we cannot allow entry to any guests with cell phones or smart devices if they are not secured in a Yondr case.

Q: What happens if there is an emergency in the venue and I can't access my phone?

A: All venue staff and security have cell phones and radios. Should an emergency occur, they are trained to implement and execute safety and emergency procedures. Guests should follow all venue instructions and evacuate immediately in the case of an emergency. Yondr Venue Staff will have hand-held unlocking devices outside at a safe distance from the venue.