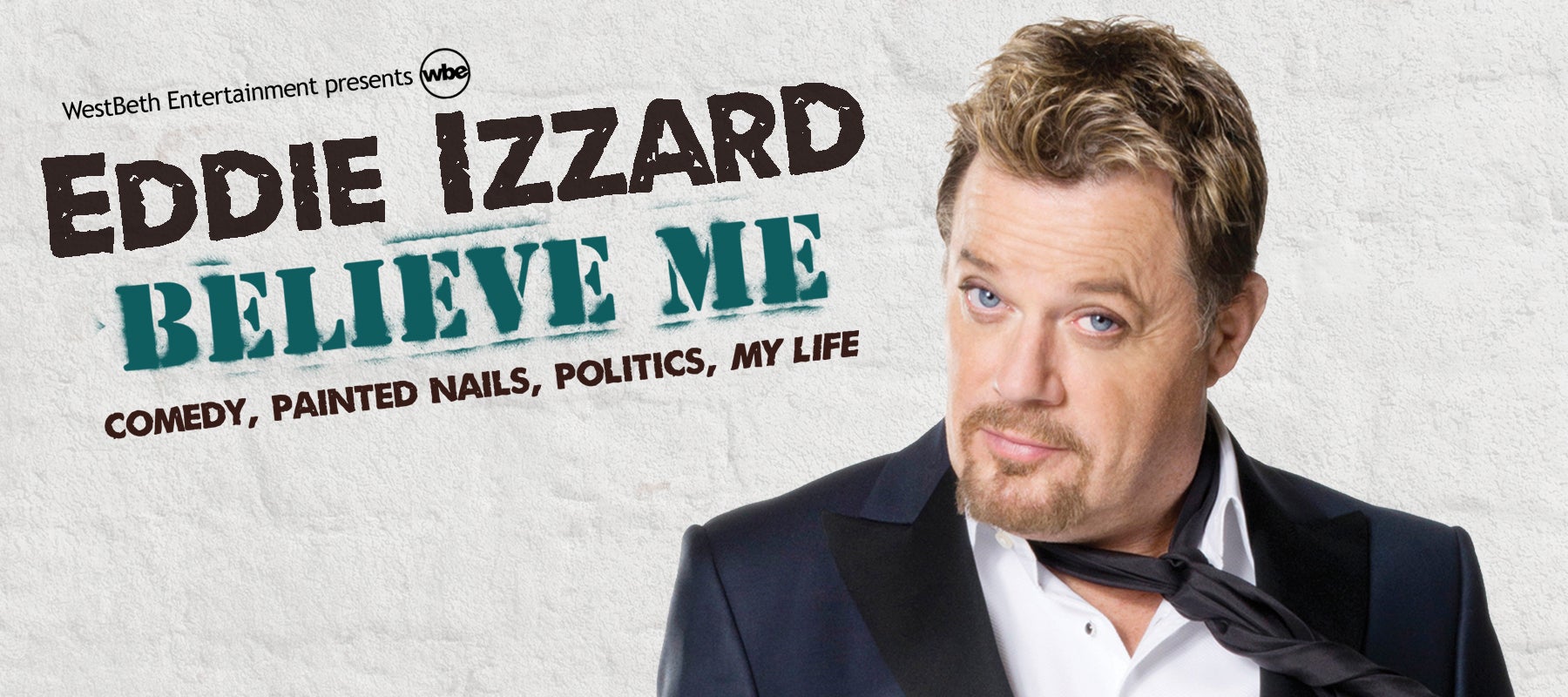 Eddie Izzard
Believe Me Tour
Eddie Izzard
Believe Me Tour
Eddie Izzard announces new U.S. tour dates for his Eddie Izzard: Believe Me Tour, running through Summer 2018. This funny and emotional show reveals the man behind the stand-up with all of the fascination with the ridiculous fans expect from an Eddie Izzard performance.
Over the course of a thirty-year career, Eddie Izzard has proved himself to be a creative chameleon, inhabiting the stage and film and television screen with an unbelievable fervor. Born in Yemen and raised in Northern Ireland, Wales, and England, he lost his mother at the age of six and that has affected the rest of his life. In his teens, he dropped out of university and took to the streets of London as part of a comedy double act.
When his partner went on vacation, Izzard kept busy by inventing a one-man escape act, and thus a solo career was ignited. As a stand-up comedian, Izzard has captivated audiences with his surreal, stream-of-consciousness comedy—lines such as "Cake or Death?" "Death Star Canteen," and "Do You Have a Flag?" have the status of great rock lyrics.
As a self-proclaimed "action transvestite," Izzard broke a mold performing in makeup and heels, and has become as famous for his "total clothing" rights as he has for his art. In Believe Me, he recounts the dizzying rise he made from the streets of London to West End theaters, to Wembley Arena, Madison Square Garden, and the Hollywood Bowl.
Izzard is arguably one of today's top comedians. He is touring his Force Majeure show—so far in more than forty countries worldwide and in four languages: English, French, German, and Spanish. With his brand of keenly intelligent humor that ranges from world history to historical politics, sexual politics, mad ancient kings, and chickens with guns, he has built an extraordinary fan base that transcends age, gender, and race.
Ticket Information

Tickets are available at the Altria Theater box office, by phone at (800) 514-3849 and online at etix.com. Ticket prices subject to change and subject to applicable fees.