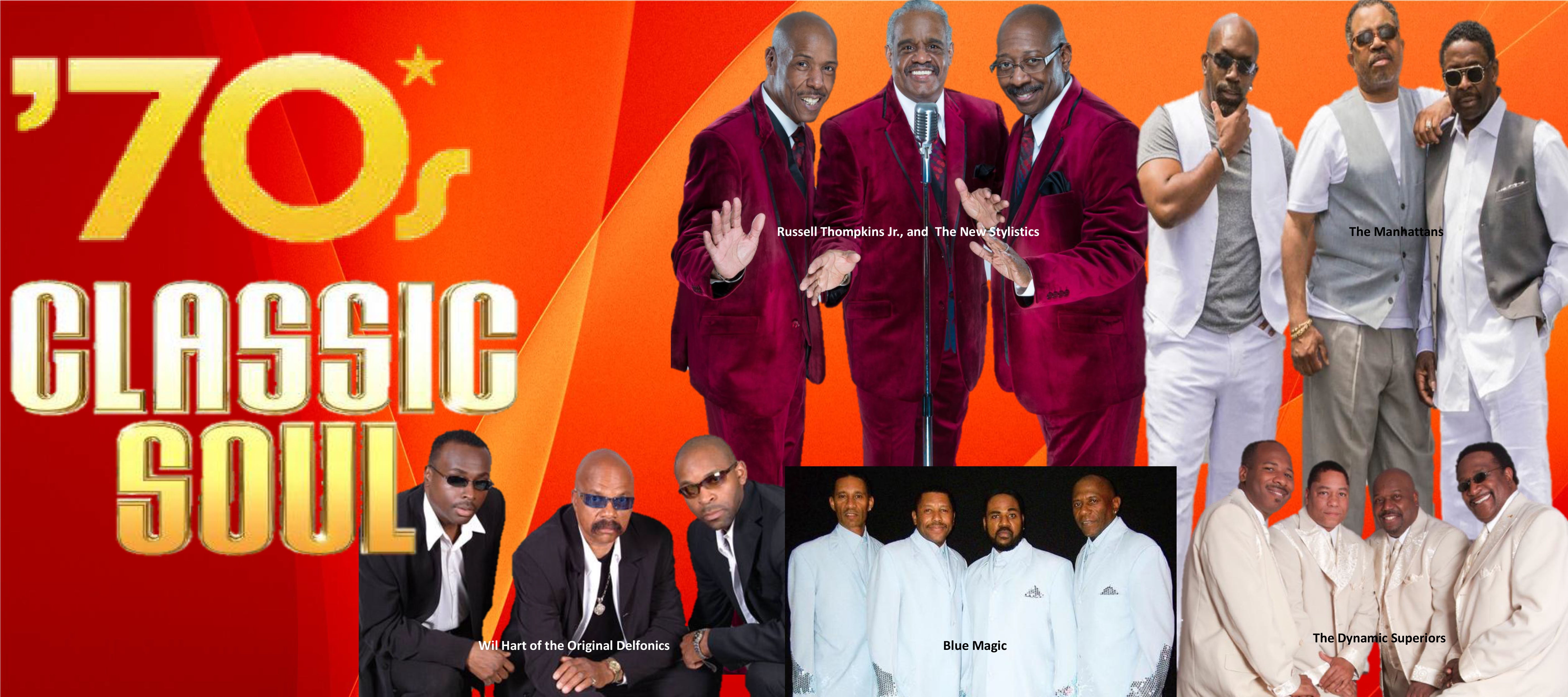 70's Classic Soul
70's Classic Soul
The 70's Classic Soul concert is the coming together of soul music legends…Russell Thompkins Jr., and The New Stylistics, The Manhattans featuring Gerald Alston, Wil Hart of the Original Delfonics, Blue Magic and The Dynamic Superiors. Join as they perform their most memorable hits and re-live the decade of classic soul, R&B. In the words of Don Cornelius, "we wish you love, peace, and soul!"
RUSSELL THOMPKINS, JR. AND THE NEW THE STYLISTICS
The Stylistics, a Philadelphia-based quartet is one of the most accomplished soul bands ever. With their charisma, style and harmony, they evolved into a best-selling group with a remarkable 10 straight top-ten hits in the 1970's. Their hits include "Stop, Look, Listen to your Heart", "You Are Everything" "Betcha By Golly Wow" and "You Make Me Feel Brand New".
MANHATTANS featuring GERALD ALSTON
The Grammy, gold and platinum award winning group, The Manhattans have sold over twelve million records throughout their career. With hits, such as "Kiss And Say Goodbye", "There's No Me Without You" and "Shining Star" The Manhattans have established themselves as a soul music icon.
WIL HART OF THE ORIGINAL DELFONICS
The Delfonics, known for their sleek, soulful "Philadelphia sound" have graced the stage and the airwaves for nearly 40 years. The combination of sexy melodies and showmanship has made this threesome a worldwide success. Their hits include, "La La Means I Love You", "You Get Yours, I'll Get Mine", "I'm Sorry", and "Ready of Not". In 1971, The Delfonics were awarded a Grammy for the single, "Didn't I".
BLUE MAGIC
Blue Magic is an American R&B soul vocal quintet formed in Philadelphia in 1972. best known for their hit songs, "Spell", "Sideshow", "Three Ring Circus" and "Start To Stop". Keeping true to the Blue Magic persona that identified the group visually back in the days, you'll witness their precise choreographed movements, smooth mesmerizing vocals and of course their classic Blue Magic attire.
THE DYNAMIC SUPERIORS
The Dynamic Superiors, a Washington, DC quintet, signed with Motown and found great success on the Soul Charts as one of Motown's most unique acts, signed with Motown, assigned to the renowned Ashford and Simpson, who wrote most of their material proved to be a winning combination which produced several hits including: "Shoe, Shoe Shine" and "Leave it Alone" both of which made the Top 20 on R&B Charts. The Dynamic Superiors today is more than refreshing after three decades and still going strong, new look and rich authentic vocal blends, The Dynamic Superiors have announced in song, that they are indeed the group you must see, must hear, and must feel.
Ticket Information

Tickets are available at the Altria Theater box office, by phone at (800) 514-3849 and online at etix.com. Ticket prices subject to change and subject to applicable fees.